Elementary OS - Luna
Elementary OS 0.2 Luna is a linux distro that has become quite popular recently. It is based on Ubuntu and designed to look somewhat like a mac. There have been many attempts to get a mac like feel on the linux desktop and Pear OS is the most significant one. However all of them fall short somewhere or the other.
Elementary introduces a new desktop environment called Pantheon that achieves a lot. First of all it gives a mac like look and feel, but most importantly it makes the desktop remarkably simple and productive. I think I shall use it on notebook and those desktops where I don't code.
I have been using KDE for the last decade and never moved out of it. Never liked gnome, never needed xfce or any of those light desktops. But elementary seems something irresistible. Not only are the looks elegant and beautiful, the usability is remarkable compared to other more common desktop environments like Gnome or Unity. Elementary has the perfect balance of style and usability and this would no doubt make it a very popular distro.
Now lets take a quick tour of this brand new linux distro that you would love, if you want to be fashionable and show off. Yeah really. elementary on a sleek ultra thin notebook would make the macs envious!!
Onto the desktop
The desktop is well drawn and painted. The wallpapers are quite pleasant. Infact its the first time I see such good looking wallpapers packed by default with a distro. As for the fonts, elementary is smart enough to use the Droid fonts which definitely is one of the best. The wallpaper and font selections definitely make a lot of sense and there is nothing wrong in what elementary developers claim on their website
elementary is crafted by designers and developers who believe that computers can be easy, fun, and gorgeous. By putting design first, we ensure we're not compromising on quality or usability.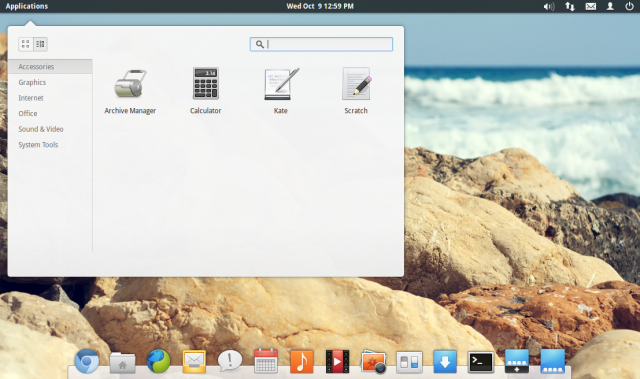 On the top left is the menu for accessing applications which is called the Slingshot. It has 2 modes of display, either only icons, or icons with categories on the left. And at the base you see Plank, the dock for icons. It is configurable and has a very decent appearance.
Elementary uses its own window manager called Gala. It is considered to be very resource consuming, so you would need high CPU power or a dedicated graphics unit for elementary to work smoothly. Otherwise cpu usage would rise high making the system sluggish.
Gnome and KDE all have desktop effects but they are all very raw in nature. They just keep showing the user with all possible desktop effects that could be created. Elementary on the other hand has very balanced mixture of various effects that look soothing and are in the right place in the right amount.
The workspace switcher is different from what you see in gnome or kde. Clicking the workspace switcher icon slides the entire desktop and shows a slide of all existing workspaces. To get the workspace switcher icon in your Plank, use elementary tweaks as discussed later in this article.
The Pantheon desktop is based on gtk so some parts of the desktop, like the top menubar resemble the looks of the underlying gnome desktop. However it has been styled as much as possible.
Here is how to show style when switching between windows.
Applications
Elementary has a slightly different set of applications than similar distros like ubuntu or mint. They are made to match the theme and concept of elementary.
File management and terminal
The file manager is pantheon-files which is a very simple and sleek file manager. Similarly the default terminal is pantheon-terminal which quite simple too.
Web
The default web browser is Midori which is a gecko based browser built using gtk. It works fine as a simple browser, but is pretty tiny compared to the feature rich chrome and firefox, so you would need to get the browser of your choice.
Empathy is available as the messenger and Geary is the mail client. Pretty standard.
Multimedia
On the multimedia front, the default audio player is "Music". For videos, it uses the more common totem player. But there aren't any restrictions as you see. Apt-get any multimedia application or code needed.
By default there are few applications. I did not see any office applications in there. But do feel free to install the office suite of your choices.
Finetune the desktop with Elementary Tweaks
If you want to customise the desktop further using a gui tool, then use elementary tweaks.
Can be installed right away from the repositories. It would appear as an additional tab in system settings.
Elementary tweak can change the fonts, the window button layout, plank settings etc. For example I keep the "workspace overview" and "show desktop" buttons on the plank. The animation and related effects can also be configured to lessen the resource usage in case you are running out of some.
I also added a workspare switcher icon and show desktop icon on the plank. That makes it quite easy to switch desktops. The desktop corners can also be used for the same task but I find icons easier. The position of close, maximise buttons on windows can also be configured from elementary tweaks interface. I prefer the close button on the right.
Handy as Ubuntu
Elementary is a close Ubuntu derivative so the benefits are carried along. Make yourself comfortable with apt-get aptitude or synaptic manager. Elementary 0.2 Luna is based on ubuntu 12.04 LTS so you can add the matching ppa repositories and other repositories and install software right away.
The installation process is same as Ubuntu and takes around 5 minutes or so. Here are a few screenshots.
That's more like it
Mint became very popular after Ubuntu (even more popular according to distrowatch ratings), may be because it preserved the conventional desktop style of icons and right clicks for the gnome fans. But I did not find anything very innovative either over there. It was just gnome 3 backport.
Pantheon
Elementary is the new rising which brings an entirely new and innovative desktop environment, specially for those who want some style. Technically its ubuntu + pantheon desktop, but its the desktop where most of the amaze is. Its quite very productive, focussed and very POLISHED in features and looks. Every corner has been been painted very artfully making the desktop very charming!!
Pantheon vs Gnome 3/Unity
Ok, now lets talk some nonsense. Pantheon is the right alternative to gnome 3 shell atleast on desktops of course. The gnome 3 shell interface gives a clean desktop, a huge Icon pad to search for applications and couple of other things here or there that might be hard to discover. But its just too complicated and it scares me if I have to boot into a live gnome session.
Pantheon fixes every single problem of gnome 3 very nicely. You get a clean desktop, a menu-style slingshot to hold the icons and also allows to search and then there is a dock at the bottom to manage open applications. Simple and easy to use with all the eye candy. Its a complete recipe.
Pantheon vs KDE
Now KDE is the only desktop I have been using till today. Because it has got things just right for desktop users. Conventional style desktop along with large clean desktop space makes things easy. The most powerful feature of the KDE desktop is the Plasmoid technology that allows to place widgets on the desktop. That is the thing that really makes it a true Desktop.
Another thing that I love about KDE is the ability to configure every workspace differently. A different wallpaper, different set of icons, different set of widgets. These are some features that you do not find in Pantheon. So Pantheon and KDE are different species and I would like to use both. KDE for work and coding and Pantheon for the rest.
Summary
Elementary provides a solid user experience in terms of simplicity, style and performance. If you are coming from a windows or mac background then elementary is definitely the ideal first linux distro to try out to get you plenty of confidence.
For the average users who use their machines for all sorts of non-technical tasks like sending mails, facebooking, twittering, document stuff etc, Elementary is ideal.
So try it out!!
Last Updated On : 9th October 2013