Recently, IBM announced that it would be acquiring Red Hat for $34 billion, a more-than-60-percent premium over Red Hat's market cap, and a nearly 12x multiple on revenues. In many ways, this was a clear sign that 2018 was the year commercial open source has arrived, if there was ever previously a question about it before.
Indeed, the Red Hat transaction is just the latest in a long line of multi-billion dollar outcomes this year. To date, more than $50 billion dollars have been exchanged in open source IPOs and mergers and acquisitions (M&A); and all of the M&A deals are considered "mega deals" — those valued over $5 billion.
IBM acquired Red Hat for $34 billion

Hortonworks' $5.2 billion merger with Cloudera

Elasticsearch IPO – $4+billion

Pivotal IPO – $3.9 billion

Mulesoft acquired by Salesforce – $6.5 Billion
If you're a current open source software (OSS) shareholder, it may feel like the best of times. However, If you're an OSS user or emerging open source project or company, you might be feeling more ambivalent.
On the positive side, the fact that there have been such good financial outcomes should come as encouragement to the many still-private and outstanding open-source businesses (e.g., Confluent, Docker, HashiCorp, InfluxDB). And, we can certainly hope that this round of exits will encourage more investors to bet on OSS, enabling OSS to continue to be a prime driver of innovation.
However, not all of the news is rosy.
First, since many of these exits were in the form of M&A, we've actually lost some prime examples of independent OSS companies. For many years, there was a concern that Red Hat was the only example of a public open source company. Earlier this year, it seemed likely that the total would grow to 7 (Red Hat, Hortonworks, Cloudera, Elasticsearch, Pivotal, Mulesoft, and MongoDB). Assuming the announced M&As close as expected, the number of public open source companies is back down to four, and the combined market cap of public open source companies is much less than it was at the start of the year.
We Need to Go Deeper
I think it's critical that we view these open source outcomes in the context of another unavoidable story — the growth in cloud computing.
Many of the open source companies involved share an overlooked common denominator: they've made most of their money through on-premise businesses. This probably comes as a surprise, as we regularly hear about cloud-related milestones, like the one that states that more than 80% of server workloads are in the cloud, that open source drives ⅔ or more of cloud revenues, and that the cloud computing market is expected to reach $300 billion by 2021.
By contrast, the total revenues of all of the open source companies listed above was less than $7B. And, almost all of the open source companies listed above have taken well over $200 million in investment each to build out direct sales and support to appropriately sell to the large, on premises enterprise market.
Open Source Driving Revenue, But for Whom?
The most common way that open source is used in the cloud is as a loss-leader to sell infrastructure. The largest cloud companies all offer free or near-free open source services that drive consumption of compute, networking, and storage.
To be clear, this is perfectly legal, and many of the cloud companies have contributed generously in both code and time to open source. However, the fact that it is difficult for OSS companies to monetize their own products with a hosted offering means that they are shut off from one of the most important and sustainable paths to scaling. Perhaps most importantly, OSS companies that are independent are largely closed off from the fastest growing segment of the computing market. Since there are only a handful of companies worldwide with the scale and capital to operate traditional public clouds (indeed, Amazon, Google, Microsoft, and Alibaba are among the largest companies on the planet), and those companies already control a disproportionate share of traffic, data, capital and talent, how can we ensure that investment, monetization, and innovation continue to flow in open source? And, how can open source companies sustainably grow.
For some OSS companies, the answer is M&A. For others, the cloud monetization/competition question has led them to adopt controversial and more restrictive licensing policies, such as Redis Lab's adoption of the Commons Clause and MongoDB's Server Side License.
But there may be a different answer to cloud monetization. Namely, create a different kind of cloud, one based on decentralized infrastructure.
Rather than spending billions to build out data centers, decentralized infrastructure approaches (like Storj, SONM, and others), provide incentives for people around the world to contribute spare computing, storage or network capacity. For example, by fairly and transparently allowing storage node operators to share in the revenue generated (i.e., by compensating supply), Storj was able to rapidly grow to a network of 150,000 nodes in 180 countries with over 150 PB of capacity–equivalent to several large data centers. Similarly, rather than spending hundreds of millions on traditional sales and marketing, we believe there is a way to fairly and transparently compensate those who bring demand to the network, so we have programmatically designed our network so that open source companies whose projects send users our way can get fairly and transparently compensated proportional to the storage and network usage they generate. We are actively working to encourage other decentralized networks to do the same, and believe this is the future of open cloud computing
This isn't charity. Decentralized networks have strong economic incentives to compensate OSS as the primary driver of cloud demand. But, more importantly, we think that this can help drive a virtuous circle of investment, growth, monetization, and innovation. Done correctly, this will ensure that the best of times lay ahead!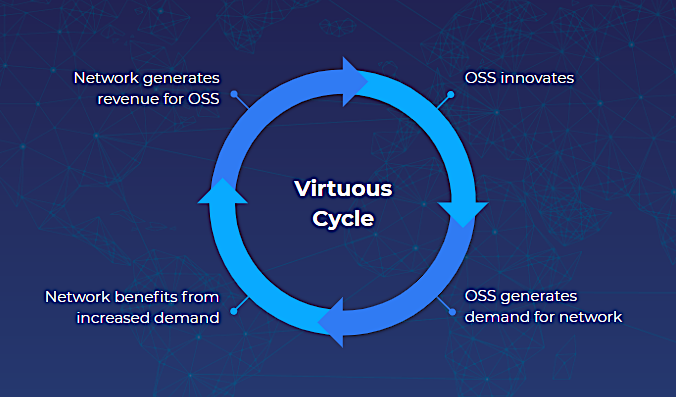 Ben Golub is the former CEO of Docker and interim CEO at Storj Labs.
Watch the Open Source Summit keynote presentation from Ben Golub and Shawn Wilkinson to learn more about open source and the decentralized web.