Today, open source development is an integral part of the tech industry, as more and more companies are looking for greater collaboration, flexibility and efficiency within their organizations. With what's trending in tech constantly changing, the open source model provides companies with the ability to accommodate new technologies and at a rapid speed.
Continuing to gain popularity and value, open source development has led to large-scale change and innovation across different areas of the tech industry. Networking, in particular, is one knowledge area that has evolved due to growing mainstream adoption of the open source model.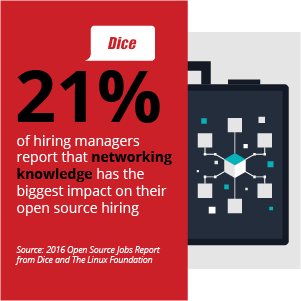 A leading emergent technology, open source networking separates hardware from software, allowing for rapid innovation, scalability, and cost cutting. With open source networking, businesses are more in control of their networks and have the ability to collaborate more freely, bring products and services to market more quickly and adjust to changing market trends.
For open source professionals, especially those in the market for a new job, familiarizing yourself with networking skills is extremely valuable. According to the 2016 Open Source Jobs Report, open source networking is the second most in-demand knowledge area, trailing only slightly behind cloud technologies like OpenStack and Cloud Stack for the number one slot. Twenty-one percent of hiring managers surveyed cited networking as having the biggest impact on open source hiring.
With that in mind, brushing up on some of the most popular networking skills is a good idea. Below are just a few networking skills that are trending in the open source community and are what employers are looking for on Dice:
OpenDaylight: With the rise of cloud computing and the expansion of data centers, software-defined solutions, like this Linux-based platform, are gaining greater traction in the tech industry. OpenDaylight works to help drive network success, reduce business costs and provide employees with greater flexibility.

Network Security: As companies build out their tech capabilities, one thing that they need to ensure is that their data is protected. For that reason, professionals with network security expertise are in high demand, with more than 3,000 job postings available on Dice on any given day, reflecting a 16 percent year-over-year increase.

Strong working knowledge of fundamental networking technologies: You can't get anywhere without a basic understanding of core networking technologies like TCP/IP, routing and firewalls. These skills are the bread-and-butter of networking.
As the need for open source technologies continues to expand, more employers will look to networking solutions as a means to accommodate this growth. For this reason, open source networking will continue to weigh heavy on hiring managers' minds when looking for new open source talent. As an open source professional, remaining up-to-date on the latest networking trends and adding new skills to your knowledge base are key in order to build and grow your career.
Yuri Bykov manages Data Science at Dice.