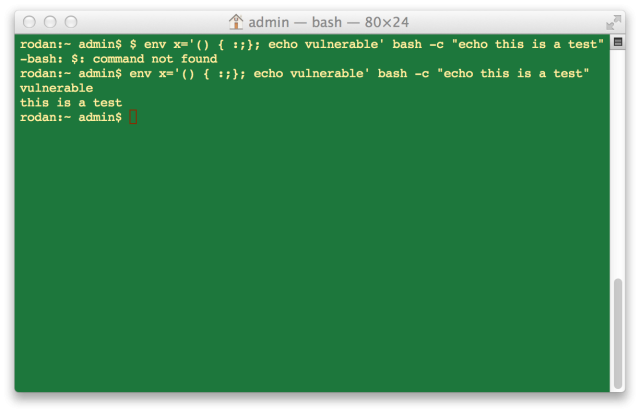 Whoops. Mac OS X's Bash shell is vulnerable to remote execution attacks.
Sean Gallagher
A security vulnerability in the GNU Bourne Again Shell (Bash), the command-line shell used in many Linux and Unix operating systems, could leave systems running those operating systems open to exploitation by specially crafted attacks. "This issue is especially dangerous as there are many possible ways Bash can be called by an application," a Red Hat security advisory warned.
The bug, discovered by Stephane Schazelas, is related to how Bash processes environmental variables passed by the operating system or by a program calling a Bash-based script. If Bash has been configured as the default system shell, it can be used by network–based attackers against servers and other Unix and Linux devices via Web requests, secure shell, telnet sessions, or other programs that use Bash to execute scripts.
Because of its wide distribution, the vulnerability could be as wide-ranging as the Heartbleed bug, though it may not be nearly as dangerous. The vulnerability affects versions 1.14 through 4.3 of GNU Bash. Patches have been issued by many of the major Linux distribution vendors for affected versions, including:
Read 6 remaining paragraphs | Comments