There are very few technologies that have had as big an influence on businesses today as cloud computing. It has completely changed the way in which businesses and tech teams think and function. Prior to the adoption of public cloud technologies, businesses relied heavily upon data centers in order to store and process their information. As a tech professional, one's operational expertise was focused around hardware (i.e. server, storage and network). The rise of cloud computing, however, caused this operational expertise to shift. Today, more companies are defining infrastructure as software. Defining infrastructure as code requires open source professionals to adopt new skillsets to help define and manage software-defined infrastructures.
As an open source professional, familiarity with major cloud vendors such as Amazon Web Services and Microsoft Azure is critical from a hiring manager's perspective. While these skills are not necessarily "open source," knowing how vendors define infrastructure is crucial for deploying cloud-based services and supporting services for everything from applications hosting and data storage to content distribution. Therefore, open source professionals will need to supplement their skills with a strong working knowledge of these platforms.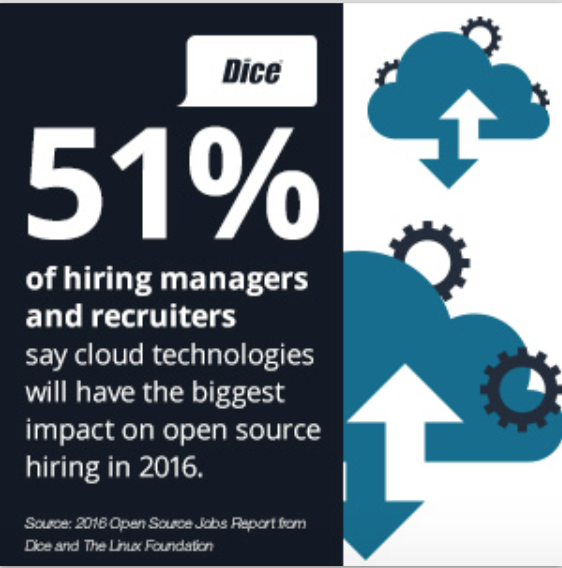 Vendor and cloud related skills are amongst the fastest growing on Dice, with job postings for professionals with Azure experience, as an example, up 87 percent year-over-year. A keen understanding of smaller virtual private servers (VPS), like Linode or Digital Ocean, are also valuable from a professional development standpoint. Employers often use these servers in conjunction with major cloud vendors as a means to reduce costs and ensure higher levels of service.
To supplement vendor skills, employers are also in the market for open source professionals with experience in configuration management tools like Puppet, Chef, Ansible or SaltStack. Configuration management has become a growing point of entry into the open source community for many companies. All of the major configuration software vendors and sponsors began as open source projects, with most continuing to do a majority of their development in an open source model.
Configuration management can aid companies in building out infrastructure in a fully automated and repeatable fashion. Rather than having to rely upon manual configurations and custom scripting to create and manage infrastructure, tools, like Puppet and Chef, are being used to expedite the deployment process and eliminate human error. On Dice, there are roughly 1,700 Puppet postings and 1,600 Chef job postings on any given day, representing roughly 2 percent each of the more than 87,000 total jobs posted on the site.
The rise of cloud computing has revolutionized the way companies and tech teams operate today. Perhaps, this is why more than half (51 percent) of hiring managers and recruiters found cloud technologies to have the biggest impact on open source hiring in 2016, according to the 2016 Open Source Jobs Report. As an open source professional, expanding one's knowledge base to include cloud-related skills isn't just smart, it's almost a necessity. It also doesn't hurt that tech professionals who have cloud experience are well compensated. Dice's latest annual salary survey found cloud (as well as big data) skills represented the majority of 2015's highest earners, making $131,121 to $142,845 on average. Cloud computing is a mainstay of the tech industry, which seems to continue to weigh heavy on employers' minds as they look to make open source hiring decisions.
Yuri Bykov manages Data Science at Dice.