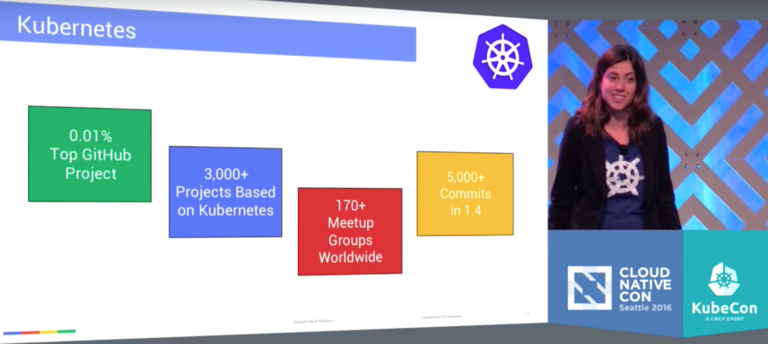 Kubernetes is a hugely popular open source project, one that is in the top percentile on GitHub and that has spawned more than 3,000 other projects. And although the distributed application cluster technology is incredibly powerful in its own right, that's not the sole reason for its success.
"We think it's not just the technology, we think that what makes it special is the community that builds the technology," said Chen Goldberg, Director of Engineering, Container Engine and Kubernetes at Google, during her keynote at CloudNativeCon in Seattle last November.
Goldberg explained how that community works by pointing to three key areas for keeping Kubernetes moving forward: empowering internal special interest groups (SIGs), a commitment to transparency, and a culture of shared learning.
Kubernetes' SIGs are intertwined; they don't map to different GitHub repositories. They meet frequently and communicate among each other as often as possible. Goldberg said that the SIGs exist to ensure the community is thinking about how to make the technology as broad and accessible as possible, that every facet of the project is making Kubernetes useful to more people.
"Everything in the Kubernetes community is operating around SIGs," she said. "They decide what features they want to work on. They discuss roadmap strategy. They triage issues towards the release. They make decisions. That's the most important thing. When a community is so big, we have to grow leadership and distribute it."
Hand in hand with that distributed approach is the commitment to transparency. Through the use of the features repository on GitHub, SIGs ensure their alignment, get new members caught up to speed, and generally just conduct business out in the open. There is a project management working group that reviews all features, highlights new breakthroughs, and keeps the SIGs working together.
"We want to make sure that you are informed of decisions if things are happening in the community," Goldberg said.
There are frequent "burndown" sessions, post-mortems, and other community meetings to keep everyone on the same page and to make sure new features live up to the community's high standards.
"We take it really seriously, the responsibility for your productions," Goldberg said. "It means that when we release something, we want to make sure that we put the quality bar really high. We make a community decision when we are ready to release something. We will triage issues together … We want to make sure it works for you."
The final vital element — a culture of shared learning — is really a nod to the fact that everyone is in uncharted territory with this new technology. There are many great ideas inside the Kubernetes community about what could work, but that's a far stretch from knowing what does work.
"We don't know everything," Goldberg said. "I would lie if I would say it's easy to manage such a big community. We make mistakes. The important thing is the community, we're engaged to learn together and to improve."
To learn more, watch the complete presentation below:
Do you need training to prepare for the upcoming Kubernetes certification? Pre-enroll today to save 50% on Kubernetes Fundamentals (LFS258), a self-paced, online training course from The Linux Foundation. Learn More >>