If any LinuxCon moment so far has underscored the evolution of Linux over 25 years, it was during the transition between keynotes this morning when Red Hat CEO Jim Whitehurst found himself on stage with Microsoft's new vice president of open source, Wim Coekaerts.
The men laughed nervously at the irony of the moment and paused for a brief photo opp, arms around each other's shoulders.
"It was cool to be with Jim Whitehurst on stage. Microsoft and Red Hat together; that's a big difference from many years ago," Coekaerts said later on in his keynote.
Red Hat's open source leadership
Whitehurst took the stage at LinuxCon first today to discuss how Linux and open source have changed corporate culture. Red Hat has always been a top contributor to the Linux kernel, Whitehurst said. But alongside its technical contributions, the company has most distinguished itself as a business model innovator. And, more recently, as a model for a culture of open innovation within corporations.
After realizing that selling t-shirts and coffee mugs wouldn't pay the bills, says Whitehurst, Red Hat set about creating "enterprise open source" software – building enterprise features into a proprietary, commercial version of the open source software. So while technical innovation was happening from the bottom up by passionate volunteer developers, enterprise use was being driven from the top down, said Whitehurst. The first enterprise Linux users were large investment banks running their trading platforms on Linux.
What followed was a massive tide of enterprise adoption, which Red Hat rode to become the first billion-dollar open source company. Meanwhile, the Linux kernel became the backbone of most of modern technology, from phones and supercomputers to light bulbs and nuclear submarines.
"Linux has become the platform on which most net new innovation happens," Whitehurst said.
Now, companies like Nike, Ikea and Toyota have also embraced the "social DNA" of Linux — the open source mindset — to drive innovation, he said.
This is the legacy of Linux, which is celebrating its 25th anniversary this week: It's created a new way to organize people and coordinate behavior to get things done.
Microsoft's new open source strategy
After a brief moment on stage with Whitehurst, Wim Coekaerts – a longtime Linux kernel contributor and the former head of Linux engineering at Oracle – spoke about Microsoft's relatively recent embrace of Linux and its shift to open source.
He presented a very different picture of the company whose former CEO once called Linux a cancer. Microsoft now recognizes that Linux and open source are necessary to their growth prospects and plans, Coekaerts said.
The company's transition to open source started with its contribution of hyper-v drivers to the Linux kernel in 2009. And Microsoft has made continual progress toward becoming an open source company since then, Coekaerts said. Last week Microsoft announced that it would open source PowerShell and make it available on Linux.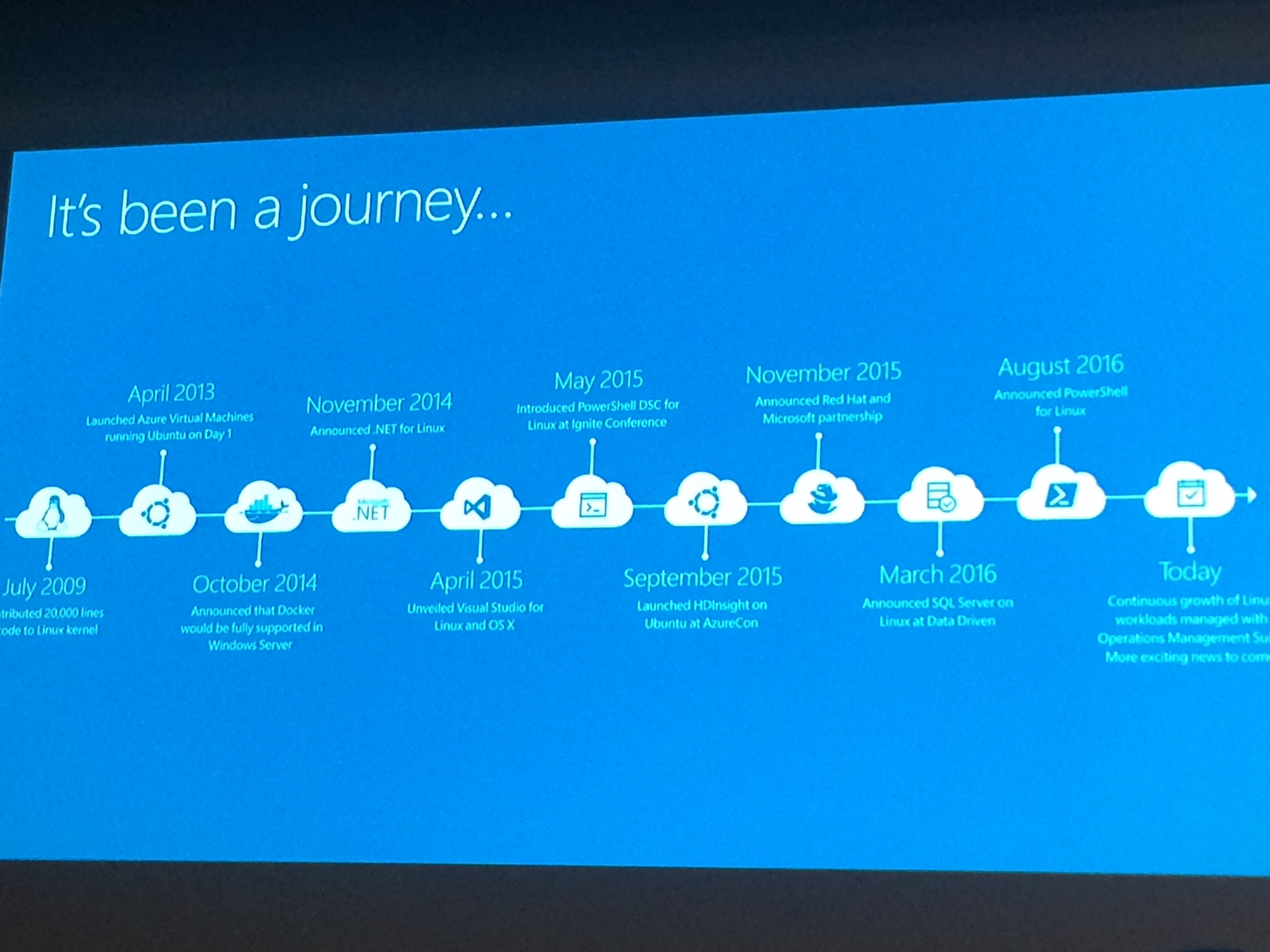 Microsoft also uses Linux internally now; many of Microsoft's services in Azure run on Linux. Developers work out of public Github trees to better collaborate with each other and the outside world, Coekaerts said. And, perhaps most telling, the company's engineers now have the freedom to build new products and services using whichever operating system works best for their purposes.
"There's no longer a (rule): "It has to be on Windows," he said. "It's actually very exciting to see."
Going forward, Coekaerts expects to see more Linux kernel contributions coming from Microsoft — and on projects that don't directly benefit the company or its products but that are intended to advance Linux itself.
"If there are cases where we can make Linux work better," he said, "we will do that."

Watch Linus Torvalds speak live tomorrow on The Linux Foundation's free streaming video. Sign up now.
Can't catch the live stream? You can still register and receive recordings of the keynotes after the conference ends.