Innovations are much more interesting than inventions. The "laser" is a classic invention and "FedEx" is a classic innovation. Successful innovation disrupts entire industries and ecosystems as we've seen with Uber, AirBnB, and Amazon to name just a few. The entire global telecommunication industry is at the dawn of a new era of innovation. Innovations should be the rising tide in which everybody wins except what's referred to as "laggards." Who are the laggards going to be in this new era of open communications? You don't want to be one.
At the SDXCentral webinar titled "Open Source Networking and Orchestration: From Proof of Concept to Production" Arpit Joshipura, The Linux Foundation's general manager of Networking and Orchestration started off by noting The Linux Foundation "is creating the greatest shared technology investment in history" and that The Linux Foundation is the leader in building open source ecosystems "that accelerate open technology development and commercial adoption." He then introduced The Linux Foundation networking and orchestration umbrella shown in Figure 1 illustrating the scope and breadth of the organization's open source networking initiatives. The goal of this organization is to "Foster Open Source Networking innovation in the entire ecosystem."
Joshipura then stated that we are entering into the third phase of open networking and orchestration. Phase 1 was the disaggregation of network components and was characterized by trials and proofs-of-concept (POC). Phase two introduced production-ready components and was characterized by initial deployments. This new third phase is production-ready, end-to-end solutions with harmonization being the key difference. This supports the webinar's theme, "From Proof of Concept to Production." The key message being that open networking is now ready to move out of the lab and beyond field trials to real production networks. It ensures the technology in question can work in real end-to-end deployment scenarios. Joshipura noted that The Linux Foundation is in the best position to "make this happen." due to its umbrella of projects and the services it provides to them. You can watch the full webinar replay for free from SDxCentral.
Toward SDN harmonization
Joshipura then provided a history of open networking illustrating how far the industry has come from the days of a single vendor providing a closed, albeit complete, solution of hardware, software, and services. It started with the advent of Open Flow which separated the networking elements' control plane from the data plane. Today, it's the complete disaggregation of the hardware, software, and services layers. Open source networking and orchestration has brought innovation-driven disruption to the entire ecosystem.
With this new "horizontal stack" a number of key issues arise. First, what is the proper way to "break, separate and disaggregate" network elements such as a switch? Second, once separated how do the new components talk to each other internally? And the third is how do these components talk externally? He then noted what's needed is collaboration between open source, open standards and open vendors to lead this disruption. This collaboration is already in full swing as there are a number of open source initiatives at each layer of this horizontal stack.
He then introduced the new Linux Foundation Open Source Framework and Architecture. He called this The Whole Stack Open Source Building Blocks. This is shown in the figure below. With this disaggregation and multiple options at every level of integration, end-to-end testing and thus harmonization become critical success factors. While this new model gives enterprises and service providers choices at each layer it also adds integration complexities. This is the area that Joshipura highlighted where The Linux Foundation is in position to facilitate this innovation and disruption.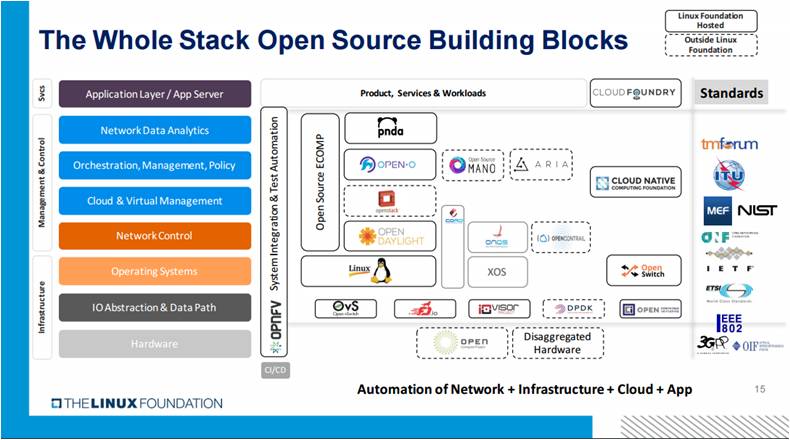 A number of current Linux Foundation projects were highlighted with an emphasis on the vibrancy of the communities and the maturity of the solution. OpenDaylight, Open-O, OPNFV, and the newer ECOMP were used as examples. In a glimpse of the future, Joshipura stated, "the network is automated, what next?" He noted the importance of expanding the realm of Networking and Orchestration to include more cloud-centric projects such as Cloud Foundry and Cloud Native Computing Foundation.
Joshipura then switched the discussion to the upcoming Open Networking Summit (ONS). The emphasis at this year's event is "bigger, better, more inclusive and targeted" and the theme of this year's event is: "Open Networking: Harmonize, Harness and Consume." This reaffirms his earlier statements that it's time to move beyond testing and proofs-of-concept to real production deployments. He noted that this year's summit will be different. It will have more business and architectural topics and will have only "visionary keynotes" with an emphasis on moving to production network deployments. He noted that there are three focused areas: Enterprise, Carriers and Cloud. Although it appeared that for now, cloud and enterprises are grouped together.
It's clear from this presentation that The Linux Foundation and its Open Source Networking and Orchestration portfolio of projects is driving real innovation in the networking ecosystem. Successful and impactful innovations take time as the disruptive forces ripple throughout the ecosystem. The Linux Foundation is taking on the complex task of coordinating multiple open source initiatives with the goal to eliminate barriers to adoption. Providing end-to-end testing and harmonization will reduce many deployment barriers and accelerate the time required for production deployments. Those interested in the future of open source networking should attend ONS 2017. No one wants to be a "laggard."
Learn more about networking and orchestration at The Linux Foundation in a free, on-demand webinar from SDxCentral and The Linux Foundation. Watch now!​