The TARS Foundation, an open source microservices foundation under the Linux Foundation, celebrated its first anniversary on March 10, 2021. As we all know, 2020 was a strange year, and we are all adjusting to the new normal. Meanwhile, despite being unable to meet in person, the TARS Foundation community is connected, sharing and working together virtually toward our goals. 
This year, four new projects have joined the TARS Foundation, expanding our technical community. The TARS Foundation launched TARS Landscape in July 2020, presenting an ideal and complete microservice ecosystem, which is the vision that the TARS open source community works to achieve. Furthermore, we welcome more open source projects to join the TARS community and go through our incubation process.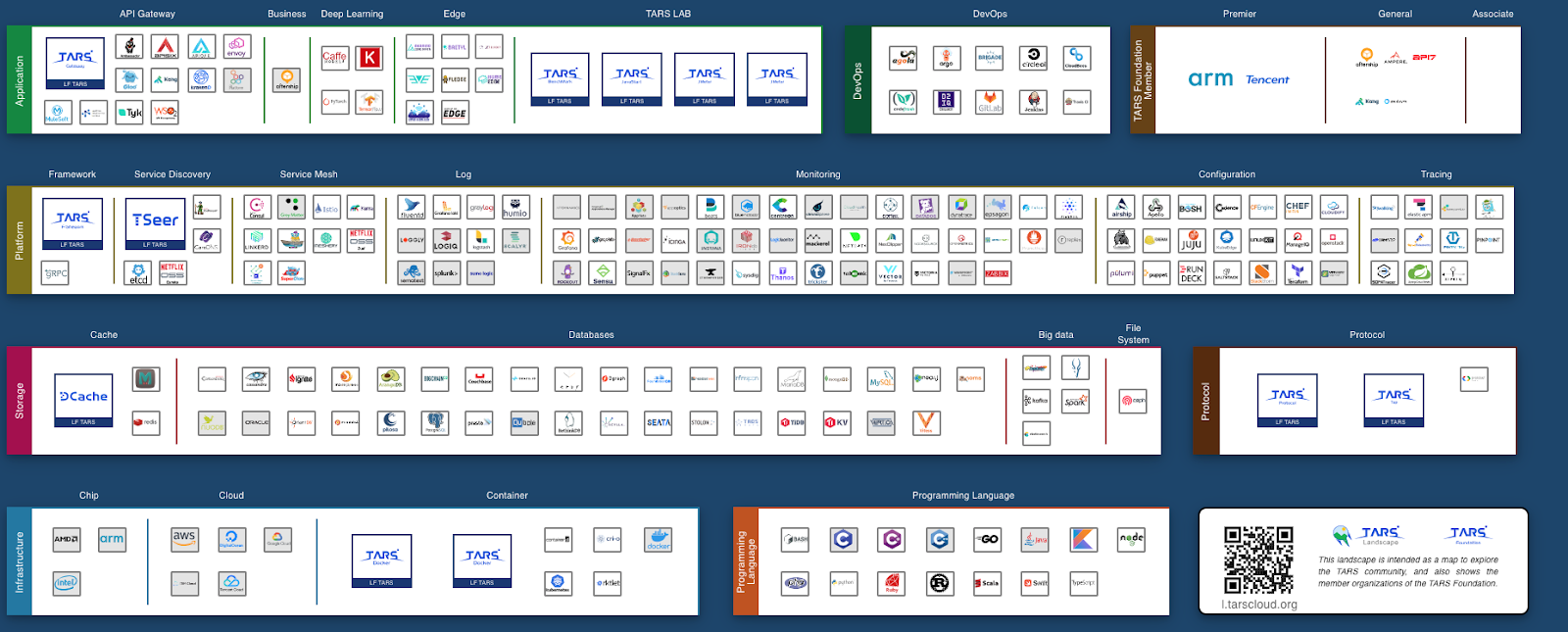 In September 2020, The Linux Foundation and TARS Foundation released a new, free training course, Building Microservice Platforms with TARS, on the edX platform. This course is designed for engineers working in microservices and enterprise managers interested in exploring internal technical architectures working for digital transmission in traditional industries. The course explains the functions, characteristics, and structure of the TARS microservices framework while demonstrating how to deploy and maintain services in different programming languages in the TARS Framework. Besides, anyone interested in software architecture will benefit from this course. 
If you are interested in TARS training resources, please check out Building Microservice Platforms with TARS on edX.
Thanking our Members and Contributors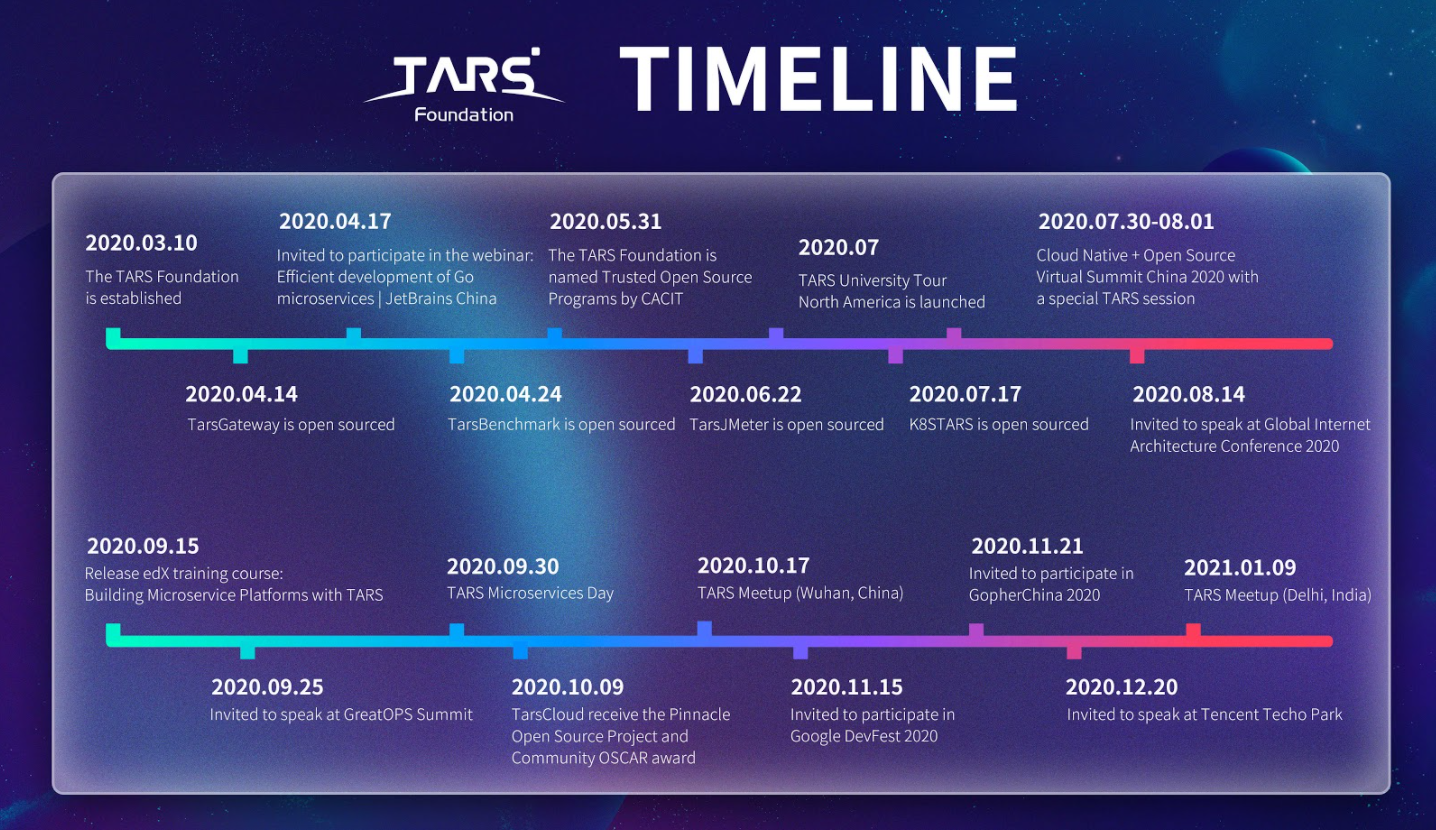 For more updates from TARS Foundation, please read our Annual Report 2020. 
We would like to thank all our projects and project contributors. Thank you for your trust in the TARS Foundation. Without you and the value you bring to our entire community, our foundation would not exist. 
We also want to thank our Governing Board, Technical Oversight Committee, Outreach Committee, and Community Advisor members! Every member has demonstrated their dedication and tireless efforts to ensure that the TARS Foundation is building a complete governance structure to push out a more comprehensive range of programs and make real progress. With the guidance of these passionate and wise leaders from our governing bodies, TARS Foundation is confident to become a neutral home for additional projects that solve critical problems surrounding microservices. 
Thank you to all our members, Arm, Tencent, AfterShip, Ampere, API7, Kong, Zenlayer, and Nanjing University, for investing in the future of open source microservices. The TARS Foundation welcomes more companies and organizations to join our mission by becoming members. 
Thank you to our end users! The TARS Foundation End User Community Plan was released to allow more companies to get involved with the TARS community. The purpose of the plan is to enable an open and free platform for communication and discussion about microservices technology and collaboration opportunities. Currently, the TARS Foundation has eight end-user companies, and we welcome more companies to join us as End Users. 
What is next?
The TARS Foundation will continue to add more members and end-user companies in the next year while growing our shared resource pool for the benefit of our community. We will also look to include and incubate more projects, aiding our open source microservices ecosystem to empower any industry to turn ideas into applications at scale quickly. As part of our plan for next year, we aim to hold recurring meetup events worldwide and large-scale summits, creating a space for global developers to learn and exchange their ideas about microservices. 
Words from our partners
Kevin Ryan, Senior Director, Arm
Through our collaboration with the TARS Foundation and Tencent, we've leveraged a significant opportunity to build and develop the microservices ecosystem," said Kevin Ryan, senior director of Ecosystem, Automotive and IoT Line of Business, Arm. "We look forward to future growth across the TARS community as contributions, members, and momentum continue to accelerate."
Mark Shan, Open Source Alliance Chair, Tencent
As TARS Foundation turns one year old, Tencent will continue to collaborate with partners and build an open and free microservices ecosystem in open source. By consistently upgrading microservices technology and cultivating the TARS community, we look forward to creating more innovations and making social progress through technology.
Teddy Chan, CEO & Co-Founder, AfterShip
Best wishes to the TARS Foundation for turning one year old and continuing its positive influence on microservices. AfterShip will fully support the future development of the Foundation!
Mauri Whalen, VP of Software Engineering, Ampere
Ampere has been partnering with the TARS Foundation to drive innovation for microservices. Ampere understands the importance of this technology and is committed to providing Ampere/Arm64 Platform support and a performance testing framework for building the open microservices community. We are excited the TARS Foundation has reached its first birthday milestone. Their project is driving needed innovation for modern cloud workloads.
Ming Wen, Co-founder, API7
Congratulations to the first anniversary of the TARS Foundation! With the wave of enterprise digital transformation, microservices have become the infrastructure for connecting critical traffic. The TARS Foundation has gathered several well-known open source projects related to microservices, including the APISIX-based open source microservice gateway provided by api7.ai. We believe that under the TARS Foundation's efforts, microservices and the TARS Foundation will play an increasingly important role in digital transformation.
Marco Palladino, CTO and Co-Founder, Kong
In this new era driven by digital transformation 2.0, organizations around the world are transforming their applications to microservices to grow their customer base faster, enter new markets, and ship products faster. None of this would be possible without agile, distributed, and decoupled architectures that drive innovation, efficiency, and reliability in our digital strategy: in one word, microservices. Kong supports the TARS foundation to accelerate microservices adoption in both open source ecosystems and enterprise landscape, and to provide a modern connectivity fabric for all our services, across every cloud and platform.", Marco Palladino, CTO and Co-Founder at Kong.
Jim Xu, Principal Engineer & Architect, Zenlayer
Microservices are the next big thing in the cloud as they enable fast development, scaling, and time-to-market of enterprise applications. TARS Foundation leads in building a strong ecosystem for open-source microservices, from the edge to the cloud. As a leading-edge cloud service provider, Zenlayer is committed to enabling microservices in multi-cloud and hybrid cloud scenarios in collaboration with the TARS Foundation community. As the TARS Foundation enters its second year, Zenlayer will continue to innovate in infrastructure, platforms, and labs to empower microservice implementation for enterprises of all kinds.
He Zhang, Professor, Nanjing University
We fully support the development of microservices and the mission to co-build a Cloud-native ecosystem. Embracing open source and community contribution, we believe the TARS Foundation is creating a future with endless possibilities ahead. 
About the TARS Foundation
The TARS Foundation is a nonprofit, open source microservice foundation under the Linux Foundation umbrella to support the rapid growth of contributions and membership for a community focused on building an open microservices platform. It focuses on open source technology that helps businesses to embrace the microservices architecture as they innovate into new areas and scale their applications. For more information, please visit tarscloud.org.