In the past five years, demand for DevOps professionals has grown exponentially, with companies looking to build out their tech capabilities and bring new software products to market while simultaneously cutting development time and driving efficiencies in the process. Since the beginning of 2016, there have been more than 2,000 daily job postings looking for DevOps professionals on Dice, representing roughly 3 percent of all job postings on the site and up 53 percent year-over-year.
DevOps professionals are key to employers looking to create a more collaborative and efficient working environment. Combining development and operations, DevOps eliminates potential conflicts that might emerge between developed projects and operational integration with a central role bridging two teams. What distinguishes DevOps from system administrators, the role they evolved from, is that DevOps requires more flexibility on the part of the professional, as they are tasked with being a wearer of many hats.
DevOps professionals are responsible for everything from designing and maintaining production systems to streamlining software development. For that reason, employers are looking for professionals who are adaptable, quick on their feet and have the ability to handle multiple tasks. Professionals with DevOps expertise are also well-compensated for their work, earning well above the national average for tech pros.
While the need for DevOps professionals is high, it doesn't mean they are exempt from professional development and training. Given the ever changing nature of today's tech market, DevOps professionals need to remain up-to-date on trending skills and what employers want in order to grow their careers.
Taking a look at Dice's Skills Center and recent job postings, the following are amongst the top skills employers are looking for in a DevOps professional:
The Big Three: Chef, Puppet and Ansible: These three configuration management tools continue to grow in popularity, with approximately 1,600, 1,700 and 800 job postings respectively on any given day on Dice. DevOps professionals leverage these skills to support software deployment and make the process more efficient.

OpenStack: Professionals with this cloud-computing skill were amongst the top 5 highest paid in Dice's latest annual salary survey, earning $138,579 on average in 2015. Software companies to cyber security companies alike are looking for professionals with expert knowledge in this cloud platform.

Programming languages (Ruby, Python, Java and Perl): Key to any DevOps professional is a strong working knowledge of different programming languages. However, these languages top the list as the most sought after languages companies are looking for when hiring a DevOps professional, as they are the foundation of all system and web/app administration as well as network and security projects.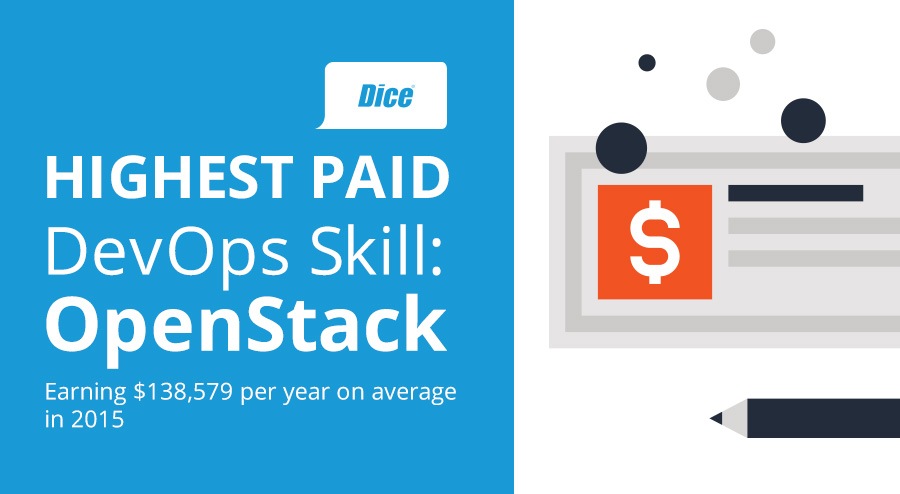 As a DevOps professional or a professional looking to get into DevOps, familiarizing yourself with these skills and other adjacent ones can help further develop or jumpstart your career. Knowing what employers want and growing your skillsbase accordingly is what can set you apart from other DevOps professionals.
Continuous professional education not only strengthens your resume, it gives you greater flexibility if you are looking to shift career paths. As an example, for a DevOps professional looking to move into a more cloud-focused role, like a Cloud Architect or Cloud Platform Engineer, learning new open source skills, such as Chef or OpenStack, could help make that a smoother transition.
With that in mind, never stop learning. Professional development is crucial as you look to build and grow a successful career.
Yuri Bykov manages Data Science at Dice.