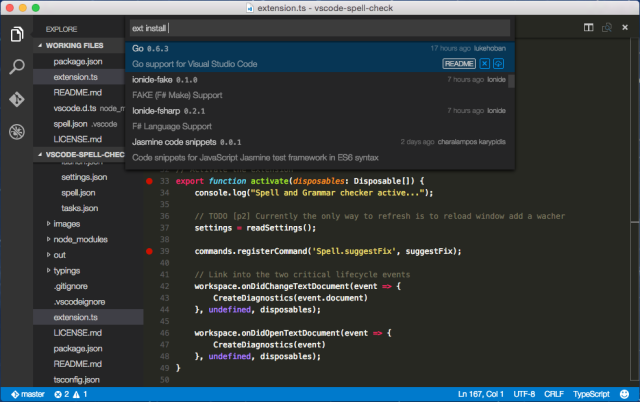 The Visual Studio Code editor, now open source, editing TypeScript on OS X. (credit: Microsoft)
NEW YORK—Developers can now debug apps running on Linux servers or IoT devices from the comfort of Visual Studio. Microsoft today released a preview of a Visual Studio extension that adds remote debugging using GDB of Linux software.
This was one of many announcements made at Microsoft's Connect developer event today as the company aims to give its developer platform the broadest reach it's ever had, able to handle Android, iOS, and Linux development, alongside the more expected Azure, Office, and Windows. Visual Studio 2015 already made big strides in this direction, and Microsoft is pushing ahead to try to make Visual Studio the best development environment around.
The free and cross-platform Chromium-based code editor Visual Studio Code is being open sourced today. A new build has also been published, adding an extension mechanism to the editor. There are already some 60 extensions available, including new language support (such as Go language), richer debugging, code linters, and more.
Read 10 remaining paragraphs | Comments