I've been a big fan of Elementary OS Freya since it released in 2015. So, when I heard the developers had released the beta of the next iteration, Loki, into the wild, I immediately downloaded and installed. I went into this wondering how the Elementary team could improve on their already unbelievably smooth Freya. Well…they did; and in doing so created what I believe to be one of the most elegant and well-designed Linux desktops on the planet.
Before I get into this, you should know that, to some, the Elementary desktop looks and feels like that of OS X. Some time ago, however, I said that Elementary OS was not just the "poor man's Apple" and that still holds true. It should also be said that Elementary OS Freya was downloaded over 1.2 million times with 73 percent of those downloads coming from closed source OSes.
Elementary OS founder, Daniel Foré says: "Rather than competing directly with existing open source projects, elementary seeks to grow the market share for open source software in general. And as we've seen with previous releases, that's exactly what we're doing."
Elementary has also made progress on their mission to create Open Source jobs. With about $8,700 in bounties paid out during the Loki development cycle, their total payout comes to $17,521. But, what will interest you more are the improvements made over Freya—which is a very impressive feat.
Let's take a quick glance at what has improved in the new release of Elementary OS.
Kernel
First, note that Loki ships with kernel version 4.4. That is a marked improvement over Freya (which was based on Ubuntu 14.04 LTS). Freya only recently upgraded to the 4.x kernel, which went a long way to improve performance and extending support for even more hardware. The changes between the 3.x kernel and 4.x are many. For more information on the Linux 4.4 kernel, check out this Linux.com article.
Beyond the kernel, we have to look at specific bits of the desktop—all of which come together to make a seriously impressive whole.
Indicators
The developers have completely revamped the indicator system for Loki. The audio, network, bluetooth, power, and Notification Center indicators have all undergone major changes. Take a look at Figure 1. On the left, you'll see the Notification Center for Freya and on the right for Loki.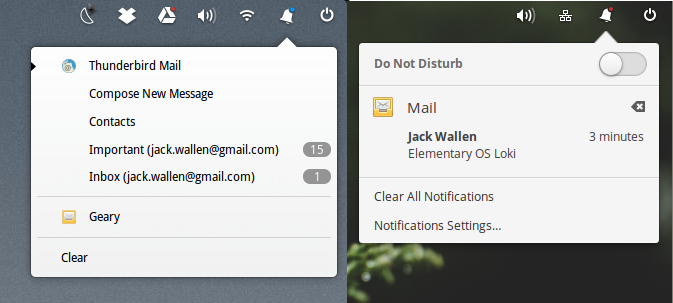 With Freya, you were only given new mail counts in the notification. Loki makes this much more user-friendly by listing the sender and subject of the incoming email. The only caveat is that you cannot enable/disable more or less information. It's all or none. With the Notifications settings window (Figure 2), you can enable/disable Bubbles, Sounds, and Notifications for each supporting app (but you cannot define what kind of information is displayed—maybe a feature for the future?).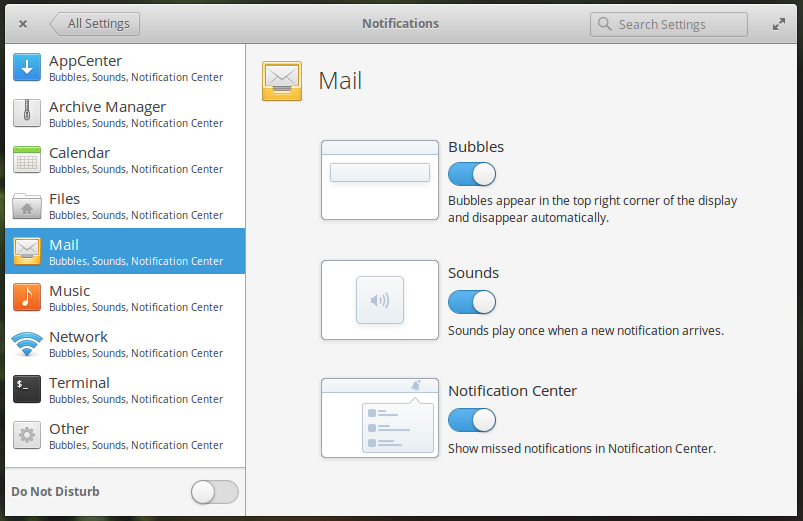 New software
Loki adds a few "new" pieces to the puzzle. Some of them are serious improvements over previous releases.
Elementary OS Freya shipped with Midori. For some, that minimal browser was fine. However, the developers saw to it to make a shift in choice to Epiphany—a Webkit2-powered browser. You'll still get that annoying message (from the likes of Google Drive) that you're using an unsupported browser, but it works significantly better than Midori. Epiphany uses the same rendering engine as Apple Safari and brings improved performance, better website compatibility, per-tab processes, improved SSL support, security and stability enhancements, and an all-new web inspector. Epiphany also utilizes the OS keychain for saved passwords (which translates to your private data being encrypted and safe).
Another welcome addition comes by way of forking the Geary email client, from the now-defunct non-profit Yorba. The developers previously announced they would be continuing Yorba's Geary email client, in the form of Mail. The new client looks very much like Geary, although it is very much improved. The Elementary team has added a new Always Show Images setting, redesigned the toolbar, and improved the overall look and feel throughout the app (Figure 3). Mail also now integrates into the new Online Accounts feature.
Mail is a much-needed breath of fresh air, considering how the Linux desktop mail client space has become stagnant.
Speaking of online accounts, Loki does include a new system that will enable users to add their online accounts (which will then seamlessly integrated into the desktop). As of the initial release, however, the only supported services are Last.fm and FastMail. More services are under development (hopefully that means the likes of Google, Twitter, Facebook, Dropbox, etc.).
Calendar
The improved Calendar app does something really impressive. If you open up the new event window (by clicking the + button in the Calendar main window) and typing something like "Meeting with Amber tomorrow at Starbucks" in the Title field (Figure 4), and hit Enter, the details will auto-fill in the correct places.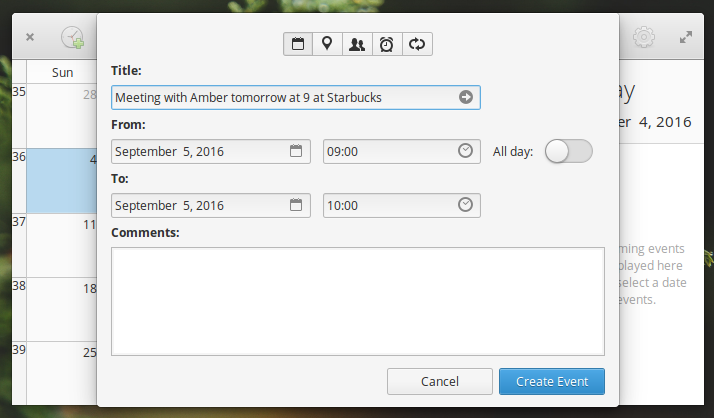 There is one caveat to using the Calendar app. You will notice that the location feature is broken. As of July 11, 2016, when Mapquest discontinued direct title access, which effectively brought GNOME Maps to a halt. This isn't a deal breaker, as it will still fill out the details for the meeting (you just won't be given a map of your location).
New App Store
We can all rejoice that the Ubuntu Software Center is no more. The Elementary team has developed their own app store, called AppStore, that works as well as GNOME Software. It's fast, reliable, includes an update section (Figure 5), and makes the process of installing and updating apps so simple any and all users will immediately feel at home.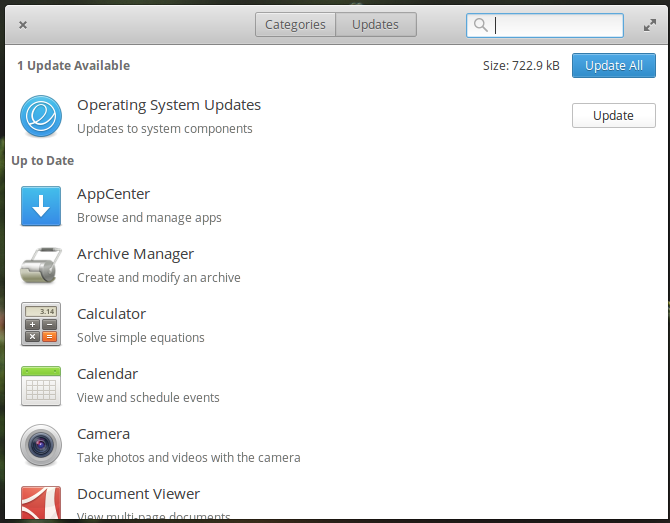 The final conclusion
If you have been using Elementary OS Freya, you should be incredibly excited about the prospect of seeing your platform of choice gain even more polish. For those that have never given Elementary a chance, Loki will be a perfect introduction to one of the most elegant and user-friendly Linux desktops on the market.
I highly recommend that every Linux user at least kick the tires of Elementary OS Loki. Elementary was the first distribution to permanently sway me from Ubuntu and it shows no signs of releasing me any time soon. And since today, September 9, 2016 is the official release day of Loki, now is the perfect time to find out if Elementary OS Loki can sway you.
Advance your system administration career. Check out the Essentials of System Administration course from The Linux Foundation.