I have to confess, KDE has never succeeded in winning me over. During its 3.x days, I found it too much like Windows. When it finally shifted to the next iteration (4.x, aka Plasma), I thought the new additions were interesting, but, as a whole, the platform suffered from serious stability issues. I also gave 5 a try a few times and found it buggy and slow.
KaOS arrived on the scene in 2013 and has, for the most part, existed under the radar. However, their latest release promised to deliver a version of KDE that would strip it of all the issues that plagued the big "K," so I thought it was finally time to give it a look. This relatively new take on Linux is a rolling release distribution, focused on delivering a lightweight operating system with a decidedly KDE flavor.
KaOS takes a very distinct approach to the platform. In a word, that approach is "focus." KaOS is completely dedicated to KDE, and they will never alter from that course (even when they mention the idea of venturing away from the Linux kernel in lieu of the Illumos kernel).
With my interest piqued, I decided to spin up a virtual machine to see if KaOS was a worthy contender for my time. I was quite surprised with what I saw.
KaOS is very good. In fact, I'd go so far to say the bits and pieces that come together for KaOS, make it the single best KDE-based distribution I have ever used. Strong words, I know. Does KaOS have what it takes to back them up? Let's take a look at what makes KaOS so special.
The look
The whole standard metaphor of panel, start button, system tray has never really appealed to me. But when KaOS displayed the KDE 5 desktop (Figure 1), I was stunned. The default desktop is masterfully designed for elegance and simplicity.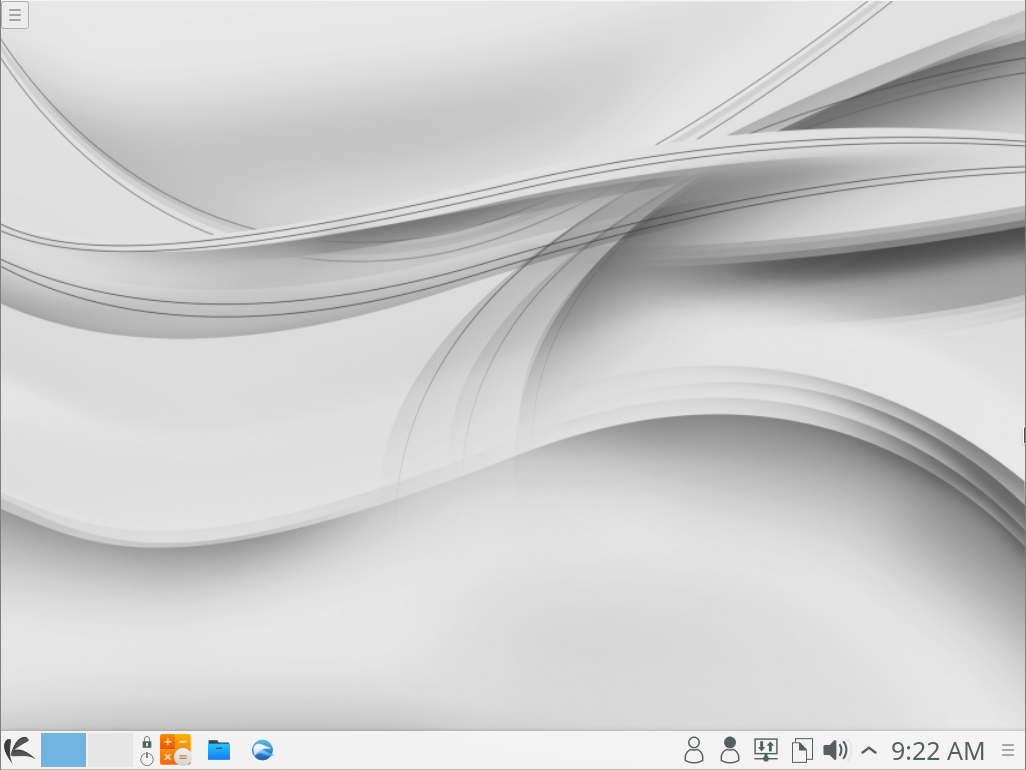 One of the issues I'd always had with KDE is that the developers/designers were too heavy-handed with the effects. In the end, what they delivered was a less-than-stable interface that looked a bit toy-ish. KaOS has taken KDE 5 and created a stunning interface that feels as solid as it looks. The look of the desktop holds true to form, from top to bottom; every single application you open adheres to the default theme, so you never experience a disjointed moment.
The speed
KDE has always been doggedly slow, especially when comparing it to the likes of Xfce, the Elementary OS desktop, or even GNOME. KaOS has done something remarkable with KDE—they made it as snappy as any other desktop. I'd grown accustomed to KDE lagging in the area of speed on just about every level; apps always seemed to be slow to open and the simple tasks of minimizing or resizing windows never failed to not impress me.
Until KaOS.
Even running this desktop distribution as a virtual machine was as fast as the host OS (Elementary OS running on a System76 Leopard Extreme). Apps launched quickly and moved about/resize without issue. How did they accomplish this? Every package in every repository is built by and for KaOS. Three years ago, they managed to achieve 1500 hand-built packages for the distribution, and all of that hard work has certainly paid off. You won't find a single app on KaOS that disappoints.
Speaking of which…
The software
Beyond the beauty and performance, one thing that really took me by surprise was the included software. I was expecting to see the usual suspects installed:
You know the list. What I found, however, was as list of software you don't always see. You'd probably be expecting the likes of KOffice on a KDE-driving desktop. Instead, KaOS went with the impressive Calligra suite (Figure 2). Calligra is a spin-off of KOffice that focuses primarily on the OpenDocument format as it's default file format. Calligra contains just about everything you need (from notes, flowcharts, text, spreadsheets, presentations, database, project management, drawing, and more).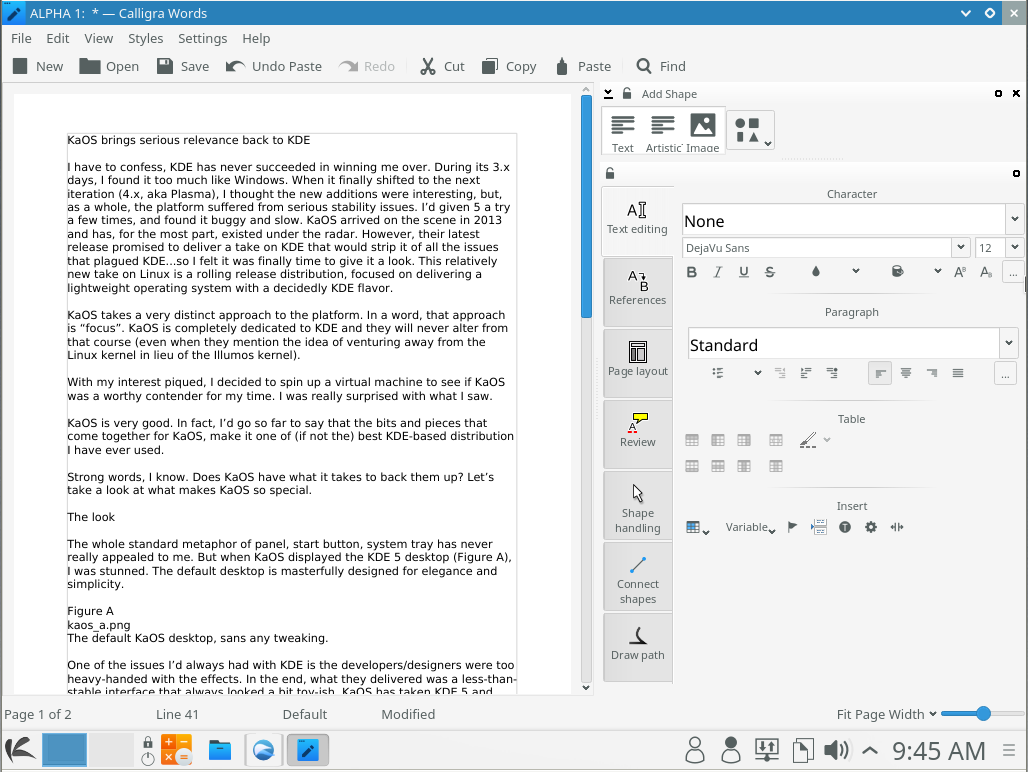 You will also find the following KaOS-built software among the list:
Qt Designer

Krita

QupZilla

Seafile

Dolphin

K3B

Kate

SUSE Studio Imagewriter
The only glaring hole in KaOS's list of software would be an email client. For that, you'll have to turn to the KaOS package manager.
Again, speaking of which…
Package management
Because KaOS is a rolling release, the developers turned to pacman/makepkg for package management. The installation of applications is as simple as going to the KaOS desktop menu and clicking System > Add/Remove Software. The front end chosen for pacman is Octopi. This gui tool (Figure 3) is reminiscent of Synaptic, in both design and usage.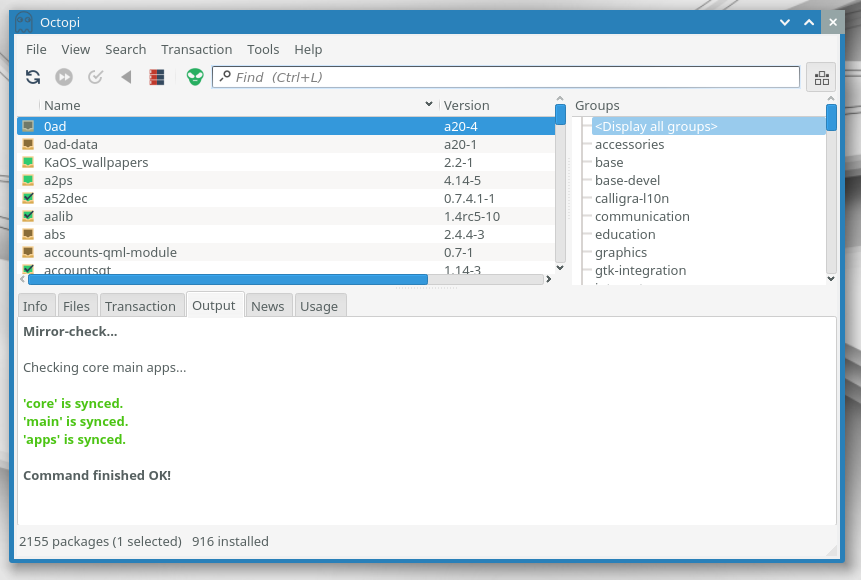 Say you want to install Thunderbird. Enter thunderbird in the search box, locate the package you want to install, right-click the listing, select Install, click the green Commit button, and then approve the installation by clicking Yes. Because every package has been built by the KaOS developers, you can trust what you've just installed will not only run smoothly, but the look and feel will blend in perfectly with the default desktop.
As far as KaOS repositories are concerned, there are three (and only three):
Core: This contains the basic software necessary for the system to boot, communicate with the BIOS, and set basic shell options.

Main: This contains all the necessary libraries, drivers, and firmware necessary to make the desktop function.

Apps: This contains all the user-facing apps.
These three repositories work seamlessly together to keep KaOS up to date and running smoothly.
The conclusion
If you've been looking for a distribution to sway you back to the KDE desktop, look no further than KaOS. It's beautiful, runs with the snap of a much lighter desktop, and feels as reliable as any other option available for Linux. I haven't been this impressed with KDE for a very, very long time. And, I am certain users would find themselves equally happy to return to a desktop that has long needed a champion like KaOS.