For the longest time, naysayers were fairly intent on shutting down anyone who believed the Linux desktop would eventually make serious headway in the market. Although Linux has yet to breach 5 percent of that market, it continues to claw its way up. And with the help of very modern, highly efficient, user-friendly environments, like PinguyOS, it could make even more headway.
If you've never heard of PinguyOS, you're in for a treat — especially if you're new to Linux. PinguyOS is a Linux distribution, created by Antoni Norman, that is based on Ubuntu. The intention of PinguyOS is to look good, work well, and — most importantly — be easy to use. For the most part, the developers have succeeded with aplomb. It's not perfect, but the PinguyOS desktop is certainly one that could make migrating to Linux a fairly easy feat for new users.
In this article, I'll take a look at what PinguyOS has to offer.
What makes PinguyOS tick?
As I've already mentioned, at the heart of PinguyOS is Ubuntu. The current build is a bit behind at Ubuntu 14.04. This means users will not only enjoy some of the best hardware recognition on the Linux market, but the apt package manager is ready to serve. Of course, new users really don't care about what package manager is employed to install and update applications. What will draw them in is a shiny GUI that makes everything a veritable point-and-click party. That's where GNOME comes in. I've already been on the record saying that GNOME is one of the slickest and most stable desktops on the market. But PinguyOS doesn't settle for a vanilla take on GNOME. Instead, PinguyOS adds a few extra options to make migration from other desktops a breeze.
To the standard GNOME desktop, PinguyOS adds a quick launch Docky bar to the bottom of the screen and an autohide Docky Places bar on the left edge of the screen (Figure 1).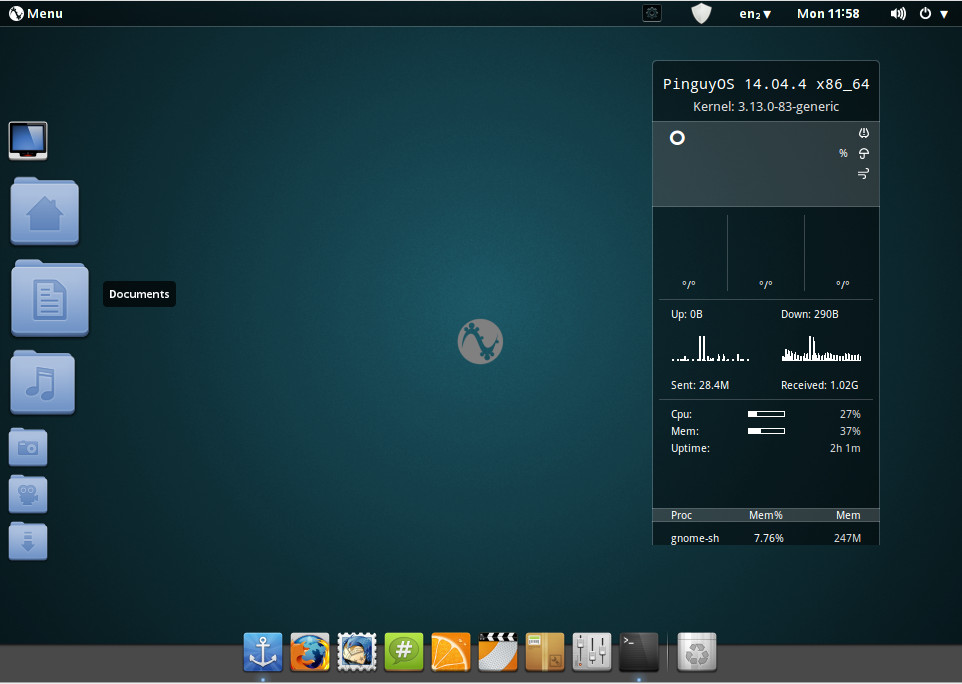 As you can see (on the default desktop), there is one piece that tends to appeal to Linux users. That piece is Conky. I've used Conky on a number of desktops, for various purposes. In some instances, it's actually quite handy. For many a Linux user, it seems a must to have detailed reports on such things as CPU, memory, and network usage; uptime; running processes; and more. Don't get me wrong, Conky is a great tool. However, for new users, I'd say it's far less interesting or useful. Thing is, new users won't even know what that window on the desktop even is. Experienced Linux users will see it, think "That's Conky," and know how to easily get rid of it (should they not want it on their desktop) or configure it. New users? Not so much.
But that is a rather minor issue for a desktop that has so much to offer. Set aside Conky and you'll see a Linux distribution that tosses just about everything it can at the desktop, in order to create something very useful. The developers have gone out of their way to add the necessary tools to make GNOME a desktop that welcomes just about every type of user. One way the PinguyOS developers have managed this is via GNOME extensions. Open up the Tweaks tool, click on Extensions, and you'll see a healthy list of additions to GNOME (Figure 2).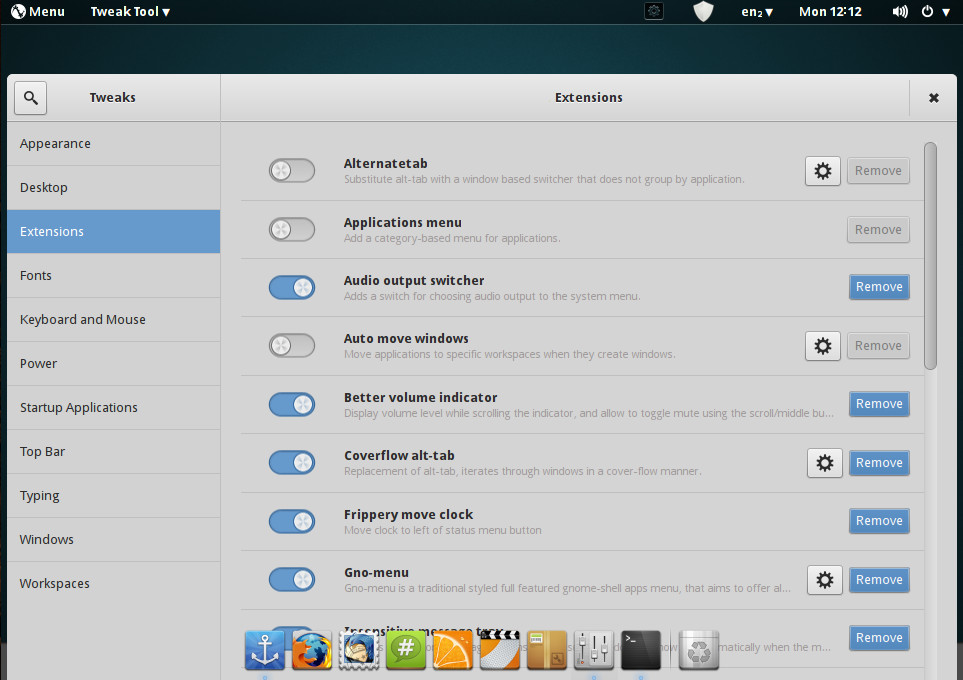 All told, there are 23 extensions added to GNOME — some of which are enabled by default, some of which are not.
Installed applications
Beyond Conky and GNOME extensions, what else can you expect to find installed, by default, on PinguyOS? Click on the Menu in the top left of the desktop, and you'll see a fairly complete list of applications, such as:
GNOME Do (do things as quickly as possible)

Shutter (capture and share screenshots)

Play On Linux (Install games via Wine)

Steam (manage Steam games)

Pinta (image creation/edit)

Empathy (instant message client)

Firefox (web browser)

Remmina (remote desktop client)

Skype (VOIP client)

TeamViewer 10 (tool for remote support)

Thunderbird (email client)

LibreOffice (full-featured office suite)

wxBanker (finance manager

Plex Home Theatre/Media Manager

Clementine (audio player)

OpenShot (video editor)

VLC (media player)
That's a healthy list of tools — one that comes with the slightest price. The minimum installation size of PinguyOS is 15.2 GB. That's nearly four times the size of a minimum Ubuntu installation. However, you do get a considerable amount of software for your trouble — something that will greatly appeal to new users. Instead of having to bother installing a number of software titles (after OS installation), you should have nearly everything you need to get your work done, in a very user-friendly environment. And with GNOME in control of the desktop, you can be certain PinguyOS will enjoy a very stable and slick desktop.
Tiny Faults
If I had to find something wrong with PinguyOS, it would be three particular somethings. The first two, I've already mentioned — being based on an outdated version of Ubuntu and the addition of Conky by default. The PinguyOS developers should consider working with Ubuntu 16.04 (also an LTS release). Also, Conky should be an optional addition, one that includes a user-friendly setup wizard upon first boot. The third isn't quite as minor a nit. Instead of including GNOME Software as the default front end for the package manager, PinguyOS opts to include both Synaptic and the now-defunct Ubuntu Software Center. First off, Ubuntu Software Center shouldn't be included on any distribution these days. The tool is broken, slow, and buggy. But adding Synaptic as a second option (or, rather, a first option — as it is the tool included in the Dock), is a mistake. This is not to say Synaptic isn't a solid tool; it is. But considering how much better (and, again, user-friendly) GNOME Software is, it would only make sense to include it as the default.
As I said, Synaptic is a good tool, just not one I'd recommend to new users. Since PinguyOS's focus is simplicity, maybe migrating to GNOME Software would be the right move.
Minor nits, major hits
Set aside the minor nits found in PinguyOS and you'll see there is quite a lot to love about this distribution. It's well polished, stable, offers all the software you need to get your work done, and it's user-friendly. What more can you ask for from a desktop operating system?
Learn more about Linux through the free "Introduction to Linux" course from The Linux Foundation and edX.