Do you remember Crunchbang Linux? Crunchbang (often referred to as #!) was a fan-favorite, Debian-based distribution that focused on using a bare minimum of resources. This was accomplished by discarding the standard desktop environment and using a modified version of the Openbox Window Manager. For some, Crunchbang was a lightweight Linux dream come true. It was lightning fast, easy to use, and hearkened back to the Linux of old.
However, back in 2015, Philip Newborough made this announcement:
For anyone who has been involved with Linux for the past ten years or so, I'm sure they'll agree that things have moved on. Whilst some things have stayed exactly the same, others have changed beyond all recognition. It's called progress, and for the most part, progress is a good thing. That said, when progress happens, some things get left behind, and for me, CrunchBang is something that I need to leave behind. I'm leaving it behind because I honestly believe that it no longer holds any value, and whilst I could hold on to it for sentimental reasons, I don't believe that would be in the best interest of its users, who would benefit from using vanilla Debian.
Almost immediately, developers began their own efforts to keep Crunchbang alive. One such effort is Viperr. Viperr is a Fedora respin that follows in the footsteps of its inspiration by using the Openbox window manager. By merging some of the qualities that made Crunchbang popular, with the Fedora distribution, Viperr creates a unique Linux distribution that feels very much old school, with a bit of new-school technology under the hood.
The one thing to keep in mind is that Viperr development is incredibly slow. At the moment, the most recent stable release is Viperr 9, based on Fedora 24. I read in the forums that, as of 2017, work was started on Viperr 10, but it's still in alpha. So using Viperr might seem a bit of a mixed bag. After installing, I ran an update to find the running kernel at 4.7.5. That's a pretty old kernel (relatively speaking). Even still, Viperr is a worthwhile distribution that might appeal to users looking for a lightweight Linux akin to Crunchbang.
Let's install Viperr and see what gives this distribution its bite.
Installation
We've reached the point in Linux where walking through an installation is almost pointless—the installs are that easy. That being said, if you've installed Fedora or CentOS, you've installed Viperr. The Anaconda Installer makes installing any distribution incredibly simple. It's all point and click, with a minimal of user interaction and steps. The only difference with Viperr is the post-Anaconda installation. Once you've completed the installation and rebooted the system, you'll be greeted with a terminal window, in which a post-install script is run (Figure 1).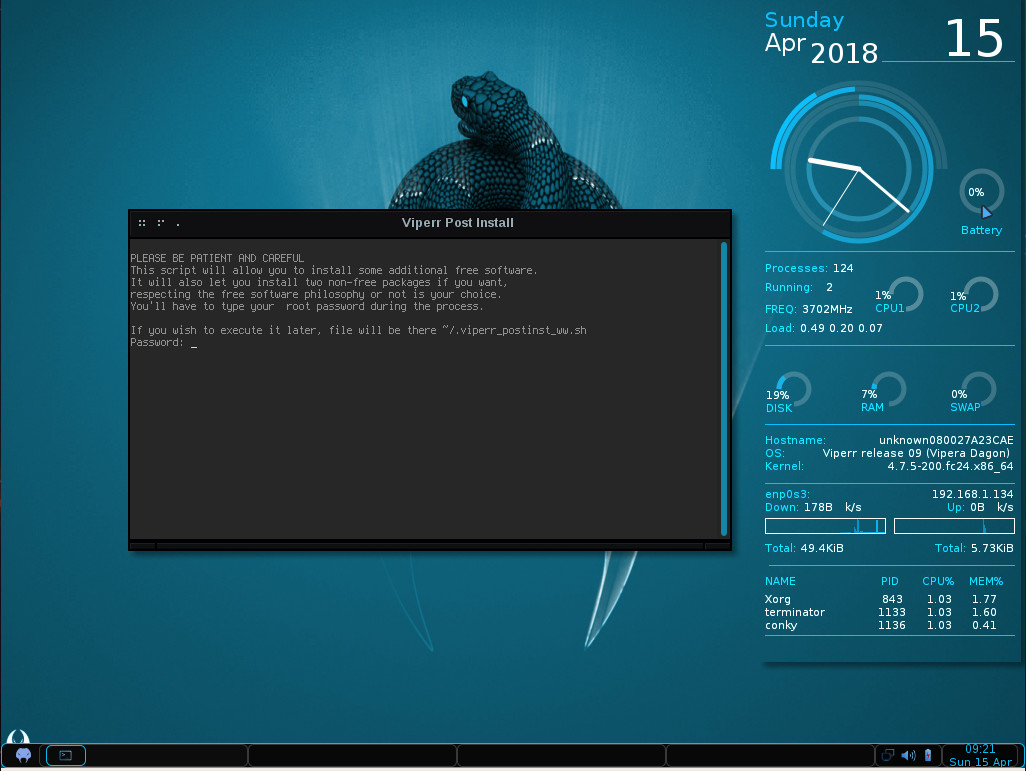 That script will first prompt you for your user password (created during the installation). Once you've authenticated, it will ask you a number of questions regarding software to be installed. During the run of the script, you can have LibreOffice installed (Figure 2), as well as other applications.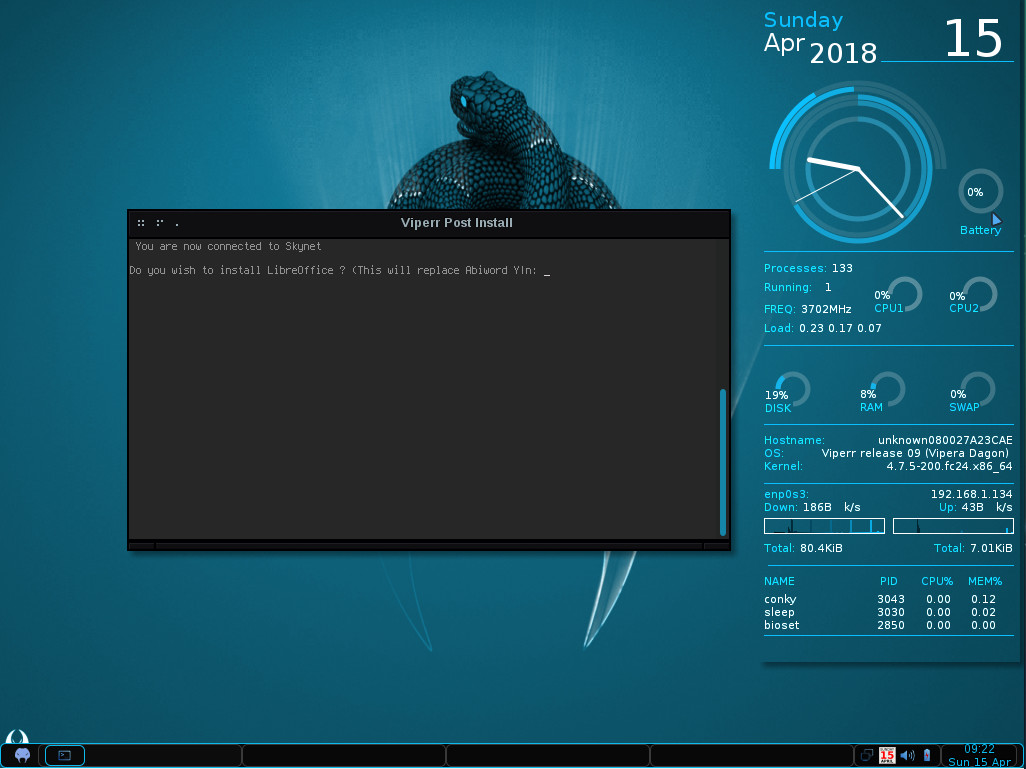 You will also be asked if you want to include the free and non-free Fusion repo. This repository is filled with software that Fedora or Red Hat doesn't want to ship (such as Audacity, MPlayer, Streamripper, MythTV, GStreamer, Bombono-DVD, Xtables, Pianobar, LiVES, Telegram-Desktop, Ndiswrapper, VLC, some games, and more). It's not a huge number of titles, but there are some items many Linux users consider must-haves.
Once the script completes its run, you can close out the terminal and start using Viperr.
Usage
As you probably expect, using Viperr is incredibly simple. The combination of the Openbox window manager and Conky giving a real-time read-out on system resources (Figure 3) is certainly a throwback to old-school Linux that many users will appreciate.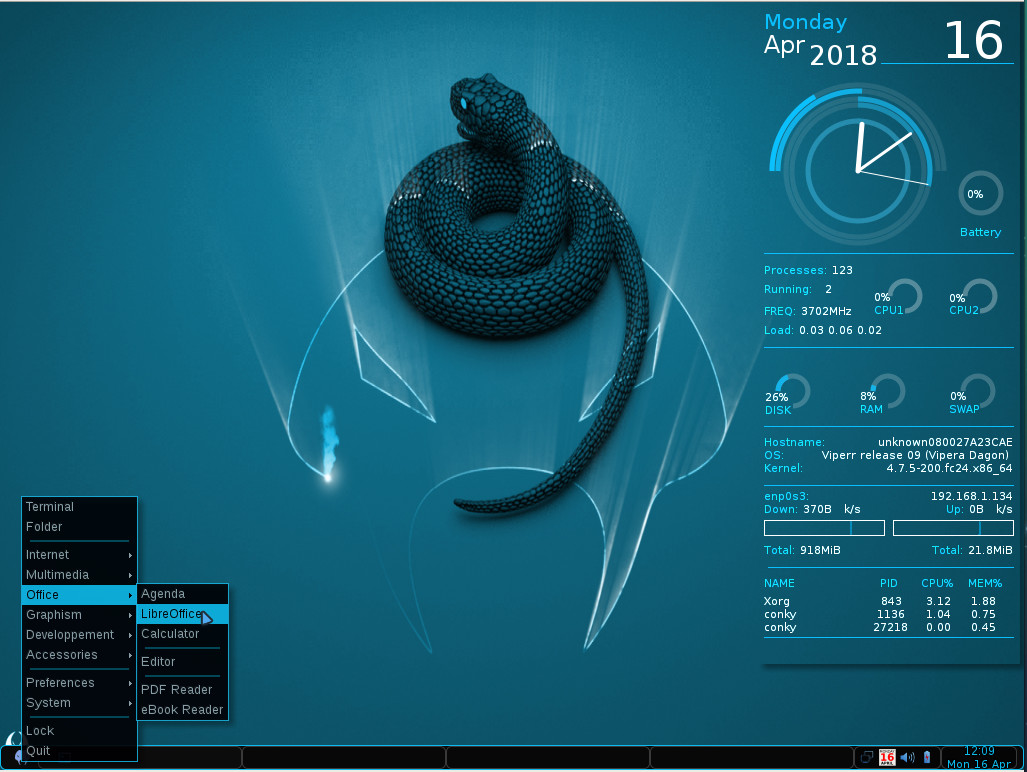 Click on the Viperr start button to gain access to all of the installed applications. Open an application and use it. That start menu, however, isn't the only route to starting applications. If you right-click anywhere on the desktop, you gain access to the same menu (Figure 4).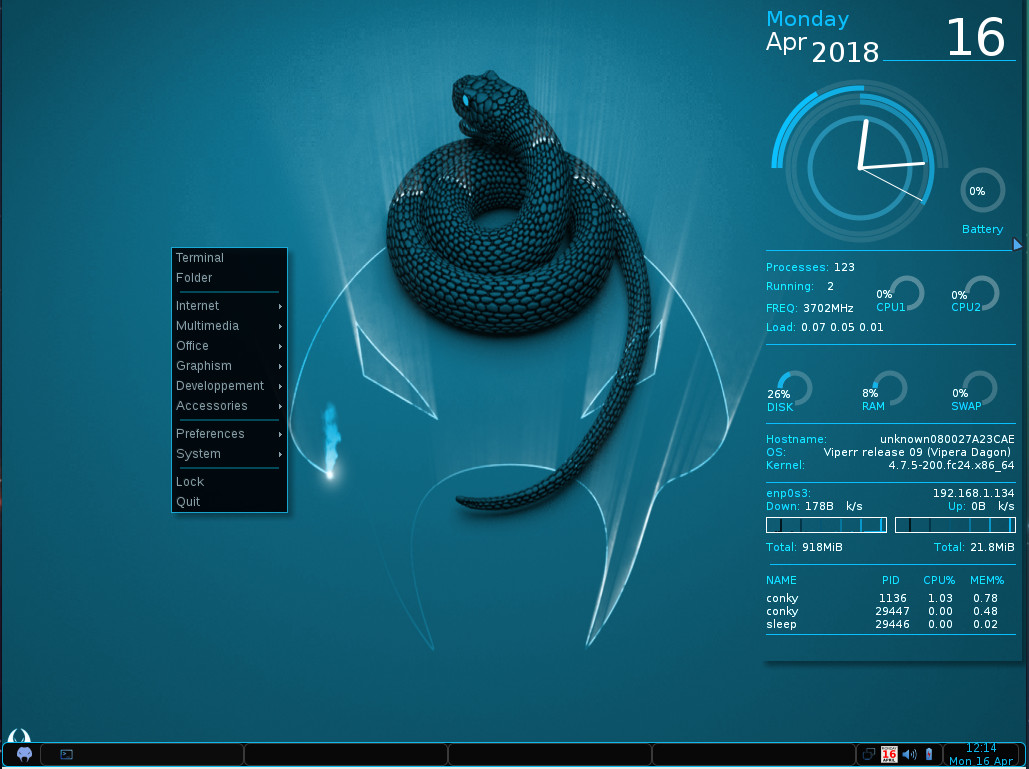 I've always been a big fan of this type of menu system, as it makes interacting with that main menu incredibly efficient.
If you want to bring Viperr even further into the new world order, you can open up a terminal window and install Flatpak with the command sudo yum install flatpak (or sudo dnf install flatpak). Once you've installed Flatpak, you'll find even more software can be installed, via Flathub.
Updates needed
Obviously, the one glaring problem is that Viperr is way out of date. However, you could go through the process of doing a distribution upgrade, via the dnf command. To do this, you would first have to install the DNF plugin with the command:



sudo dnf install dnf-plugin-system-upgrade
Once that command completes, you can upgrade from a base of Fedora 24 to 25 with the command:



sudo dnf system-upgrade download --releasever=25
When that command completes, reboot with the command:



sudo dnf system-upgrade reboot
The above command does take some time to complete (I had 2339 packages to upgrade), but it will eventually land you back on your Viperr desktop. I successfully completed that upgrade (which upgraded the kernel to 4.13), but I didn't continue with the process to upgrade from 25 to 26 and then 26 to 27. Theoretically, it could work.
Outside of that, you'd be hard-pressed to find anything really wrong with a lightweight distribution like Viperr. It's a fast, reliable throwback to a distribution so many users quickly fell in love with. With Crunchbang long gone, for those longing to return to the days of a more basic version of the operating system, Viperr fits that bill to a tee.