Data centers must continue to evolve to handle the increasing network load generated by our frequent use of applications and services like voice activated network applications (OK Google, Alexa), video, mobile phones, IoT devices, and more, according to SDxCentral's 2017 Next Gen Data Center Networking Report.
The report predicts that the big web companies like Facebook, Google, Microsoft, and Amazon will spur a lot of the innovation through organizations like The Linux Foundation, who will help drive these open source technologies into the broader ecosystem. Networking vendors will need to innovate and engage beyond the increasingly commoditized hardware platforms and find a balance between differentiating their solutions and collaborating in joint projects that could cannibalize their business.
To better understand why data center evolution is important for enterprises and communication service providers, SDxCentral looks at four key business drivers:
Increased competitiveness driving agility, cost-savings, and differentiation in IT
Increased consumption of video and media-rich content
Dominance of cloud and mobile applications
Importance of data — Big Data, IoT, and analytics
The report also looks at trends across several key components in Next Gen Data Center Networking (NGDCN), including:
Virtual Switch (vSwitch): Maintaining good application performance can be dependent on performance of the vSwitch, and it's an important part of the stack as the point of entry into the network for applications. The report indicated that "the most common vSwitch we find in most data centers today is Open vSwitch (OVS), a Linux Foundation project."
Accelerator NICs: Accelerator or intelligent network interface cards (NICs) are becoming more popular with data center operators looking to get even better performance by pushing some of the packet processing onto this specialized hardware.
ToR, Leaf and Spine: Leaf switches (top-of-rack switches) and spine switches are part of most new network architectures designed for high-throughput connections between data center servers that are being used by the big web companies.
Data Center Interconnects (DCI): Connectivity between data centers typically required a separate, dedicated box devoted to DCI, but recent advances are eliminating the need for these dedicated solutions and allowing direct connections.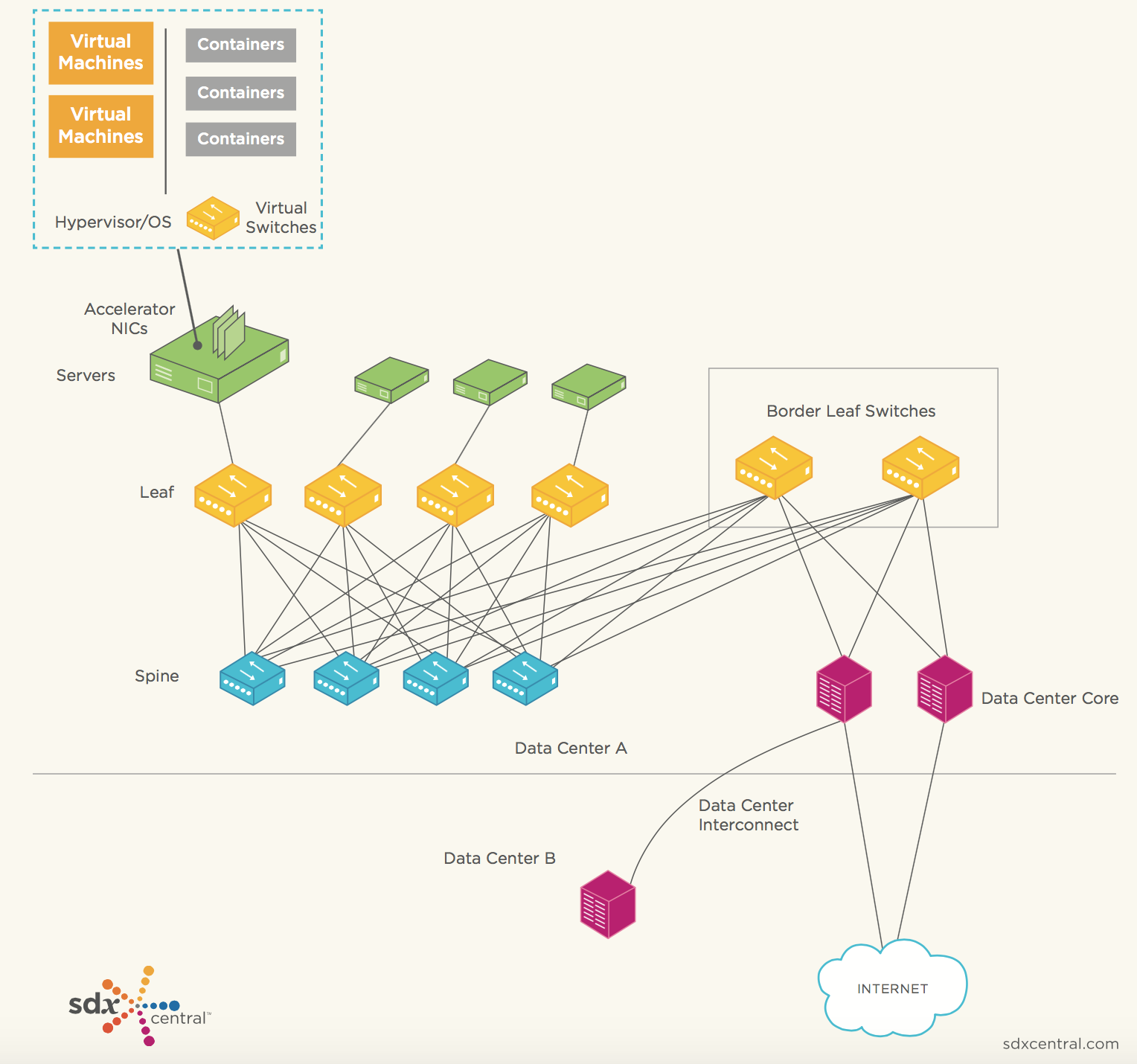 As NGDCN trends evolve, SDxCentral highlights a few important, overarching trends emerging over the past few years:
Trend 1: Disaggregation and White box
Trend 2: Virtualization, Overlays, and OpenStack
Trend 3: Two-stage Leaf-spine Clos-Fabrics with ECMP and Pods
Trend 4: SDN, Policy, and Intent
Trend 5: Big Data and Analytics
According to the report, "to understand how NGDCN will evolve, it's important understand two major elements. Firstly, what major projects are underway at the web titans, and secondly, how these projects will migrate to new open-source organizations like Linux Foundation and the OCP (and for some components, the OpenStack Foundation)."
The Linux Foundation is poised to become a key player in NGDCN. "With the importance of open-source across networking and with increased importance of SDN, virtual switches and open software stacks in the NGDCN, the Linux Foundation has become highly relevant to NGDCN evolution. … We anticipate that over the course of 2017 and 2018, we will see significant innovations coming from these and other software projects that have big impacts on the NGDCN," the report states.
Learn more about the future of networking at the Open Networking Summit April 3-6, with more than 75 sessions led by industry visionaries. Register now >>