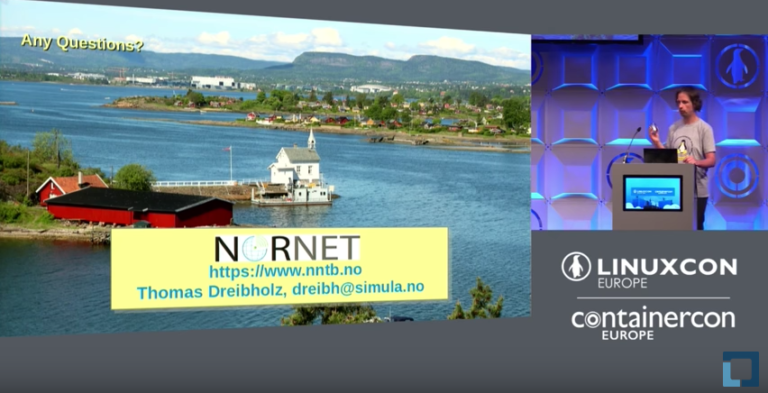 With new devices and applications creating interesting use cases for IoT, smart cities, vehicle networks, mobile broadband and more, we are creating new ways to use networked technologies, and we need to be able to test these in realistic settings across locations. In his LinuxCon Europe talk, Thomas Dreibholz, Senior Research Engineer at Simula Research Laboratory talked about how they are building NorNet using open source software as an inter-continental Internet testbed for a variety of networked applications.
Dreibholz talked about two concepts underlying the NorNet project, multi-homing and multi-path transport. Multi-homing is designed to make the network more robust by connecting to multiple ISPs at the same time to provide multiple interfaces (addresses) and redundancy for continuous communication, even when some paths fail. Multi-path can make more efficient use of multi-home to utilize paths simultaneously for better throughput using Multi-Path TCP (MPTCP) or Concurrent Multi-Path Transfer for SCTP (CMT-SCTP).
Unfortunately, CMT-SCTP is not available for Linux, so if you want to use CMT-SCTP Dreibholz recommends using FreeBSD; however, MPTCP is available for Linux. While it isn't yet in the mainline kernel, it has an active community and can be downloaded from the Université catholique de Louvain. The downside is that you need to compile it yourself, and you'll need to spend a bit of time thinking about how the routing should be configured to take advantage of MPTCP.
The wired part of NorNet Core has 21 sites. Although 11 of the sites are in Norway, the other 10 are geographically distributed, with four in Germany, two in China, and others distributed all over the world. Sites span from Longyearbyen — about 1,200 kilometers away from the North Pole — to a southern site in Sydney, Australia.
Things can go wrong with experimental software and as a result of Murphy's Law, things will go wrong, Dreibholz says. With sites in hard to reach locations, they are using KVM-based virtual machines running on a very lightweight installation of Ubuntu Server Linux that allow them to replace or reinstall VMs with misbehaving software without needing someone physically present at the site.

For more details about all of the many technologies used in the NorCore testbed or to learn more about getting access to use the testbed for your experiments, watch the entire talk below!
Interested in speaking at Open Source Summit North America on September 11 – 13? Submit your proposal by May 6, 2017. Submit now>>

Not interested in speaking but want to attend? Linux.com readers can register now with the discount code, LINUXRD5, for 5% off the all-access attendee registration price. Register now to save over $300!