Editor's Note: ZTE is a Gold-level sponsor of Open Networking Summit 2017, to be held April 3-6 in Santa Clara, CA.
The dawn of new services such as 5G, IoT, AR/VR, e-commerce, connected cars,and more, is driving us to digitalization — a massive transition that also requires the network to change.
ZTE's Network 2020 Vision, along with the corresponding solutions of 'ElasticNet' for Digital Transformation, provides a framework for this future network.
ZTE ElasticNetTM focuses on 'Triple-layer re-architectures':
Infrastructure re-architecture: To build up a cloud–and-network converged infrastructure layer that is defined as 'Elastic Cloud Infrastructure.'

Network service re-architecture: To construct a virtualized and open service function layer that is defined as 'Elastic Cloud ServiceTM'

Operation re-architecture: To compose a smartly-operated orchestration layer that is defined as 'MICT-OSTM'.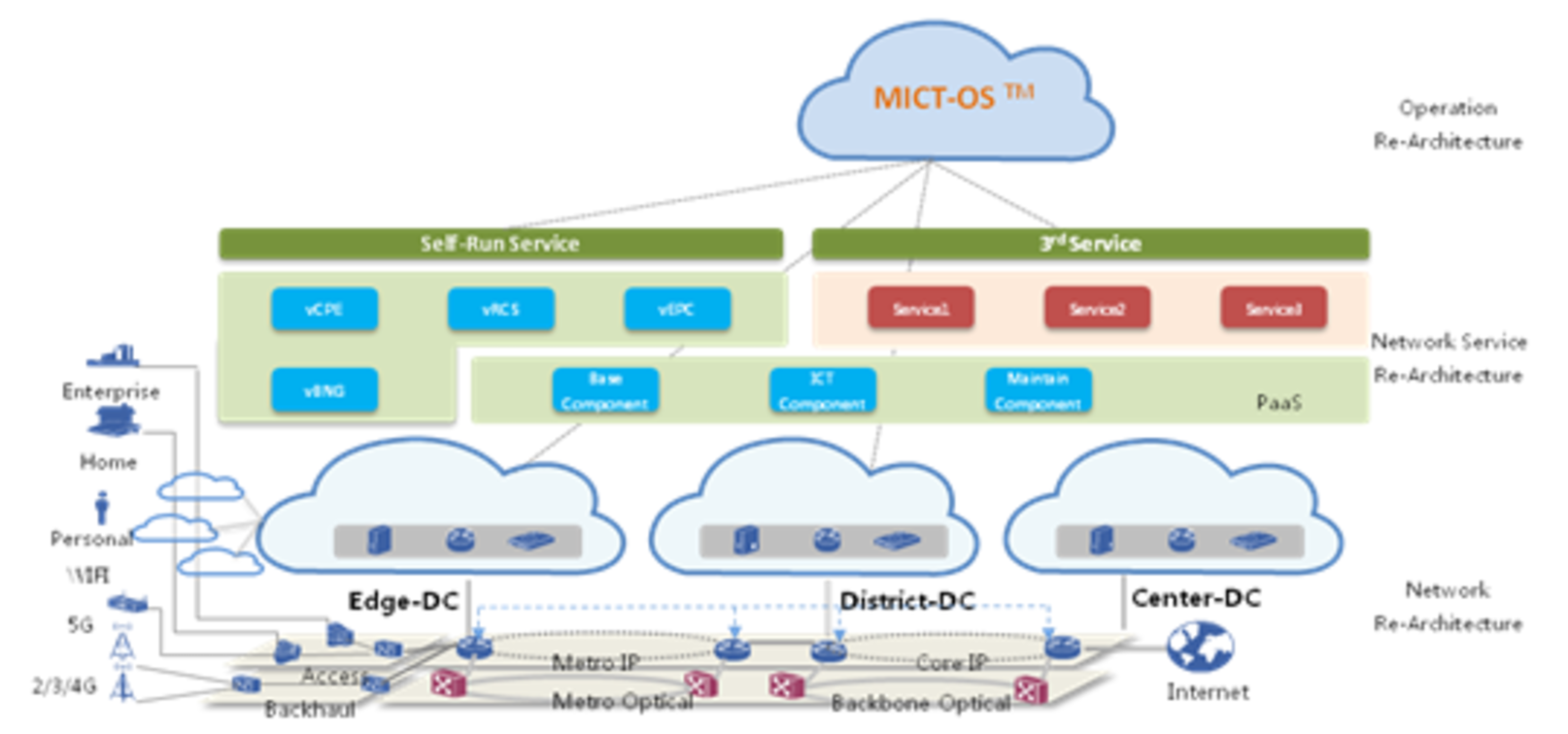 Empowered by cloud computing technologies, big data and SDN/NFV, ElasticNet involves software-defined networks featuring a layered structure, centralized control and unified management.
The ElasticNet architecture and solutions have been deploying in three typical scenarios to accelerate the network evolution.
Central Office (CO) Re-construction
Reconstructing the large number of existing central offices and legacy equipment

Utilizing these physical resources for 'telecom cloud'

Transforming legacy networks into SDN and NFV-based networks
ZTE's CO re-construction solution provides an approach to transforming existing architecture from metro access networks (MANs) to ones based on edge-DCs. The control plane will be separated from the forwarding plane and the functions such as BNG, CPE and OLT will be virtualized and centrally deployed on edge-DCs, and further, the vCDN and vEPC-U will be migrated down to the edge-DCs.
High-performance commodity devices will be utilized as the forwarding plane devices and formed to resource pool so that they are able to meet future requirements for ultra-bandwidth processing. Concurrently, by resource sharing, they are able to reduce the quantity of devices and consequently produce savings in Capex and Opex.
Cloud-Native Based Network Slicing
With the impending arrival of 5G, mobile broadband systems will be full-service networks that integrate multiple technologies to meet various application needs. 5G-oriented network slicing is a mechanism that can be used by operators to support network functions running parallel on the same chip,providing on-demand slicing capabilities.
By introducing NFV enhanced ICT (information and communication technology) PaaS — Cloud WorksTM — ZTE's ElasticNetTM constructs cloud services by intelligent VNF management and an agile DevOps process. This cloud service platform will attract more developers to promote the innovation of personalized and diversified services.
Network on-Demand
To break through the limits of users' access to the network resources, ZTE network on-demand solution provides essential applications for network capability exposure. With it, the customer will be able to acquire a range of on–demand services. These DIY services include:
Flexible and instant network connection services

Options on bandwidths, site locations and QoS levels

Customized end-to-end reliable automated leased line services

Order of service functions, including NAT, firewalls and DPI
Want to learn more about the network of the future? Register now to attend Open Networking Summit 2017, to be held April 3-6 in Santa Clara, CA. Linux.com readers receive 5% off the "attendee" registration to Open Networking Summit with code LINUXRD5.