As Linux became more stable and popular business are looking for saving every bucks and Open source Point of Sale applications are getting first choice especially for small businesses for managing work, sales and inventory. We have seen some of the Open source POS have grown such an extend that exceed known close source POS brands. Here is a short list of POS that you can at try free of cost.
1. PHP Point of Sale
Platform: LAMP
Type: Retail
Reviewer's Rating 3/5
PHP Point of Sale System is in the market for last few years. It's a Lamp based Point of sale suitable for small and medium stores. The site also provide active support and has predefined list of hardware. It has master database for customer, sales, supply, employee and provides flexible reporting. Being a web based POS it has limited support for POS printer and cashdrawer.
Download: https://sourceforge.net/projects/phppointofsale/

2. Floreant POS
Platform: Java, MySQL/Derby/PostgreSQL
Type: Restaurant & Retail
​Reviewer's Rating 4.5/5
Floreant POS was originally designed for Dennys restaurant chain and then released as open source in 2009. Being a Java based application it has advantage of support for different type of hardware including customer display pole, digital scale and barcode scanner. Some features we find are
Kitchen & Receipt printer routing & KDS
Pizza Builder
Support for Dine In, Take out and Home delivery order type
Discounts, Coupons and Shift wise pricing
Back office reports
Compared to other POS Floreant has simple User Interface that fits for tablet and large monitors. It has customizable order types. If a restaurant has dine in as well as small restail outlet this could fit it well. Floreant handling back office features like Tax, Customer, Payroll, Server tips, Drawer pull etc. It also produce sales analysis, hourly sales and server productivity. Its founder company OROCUBE LLC maintains this open source system and also offers commercial support for them.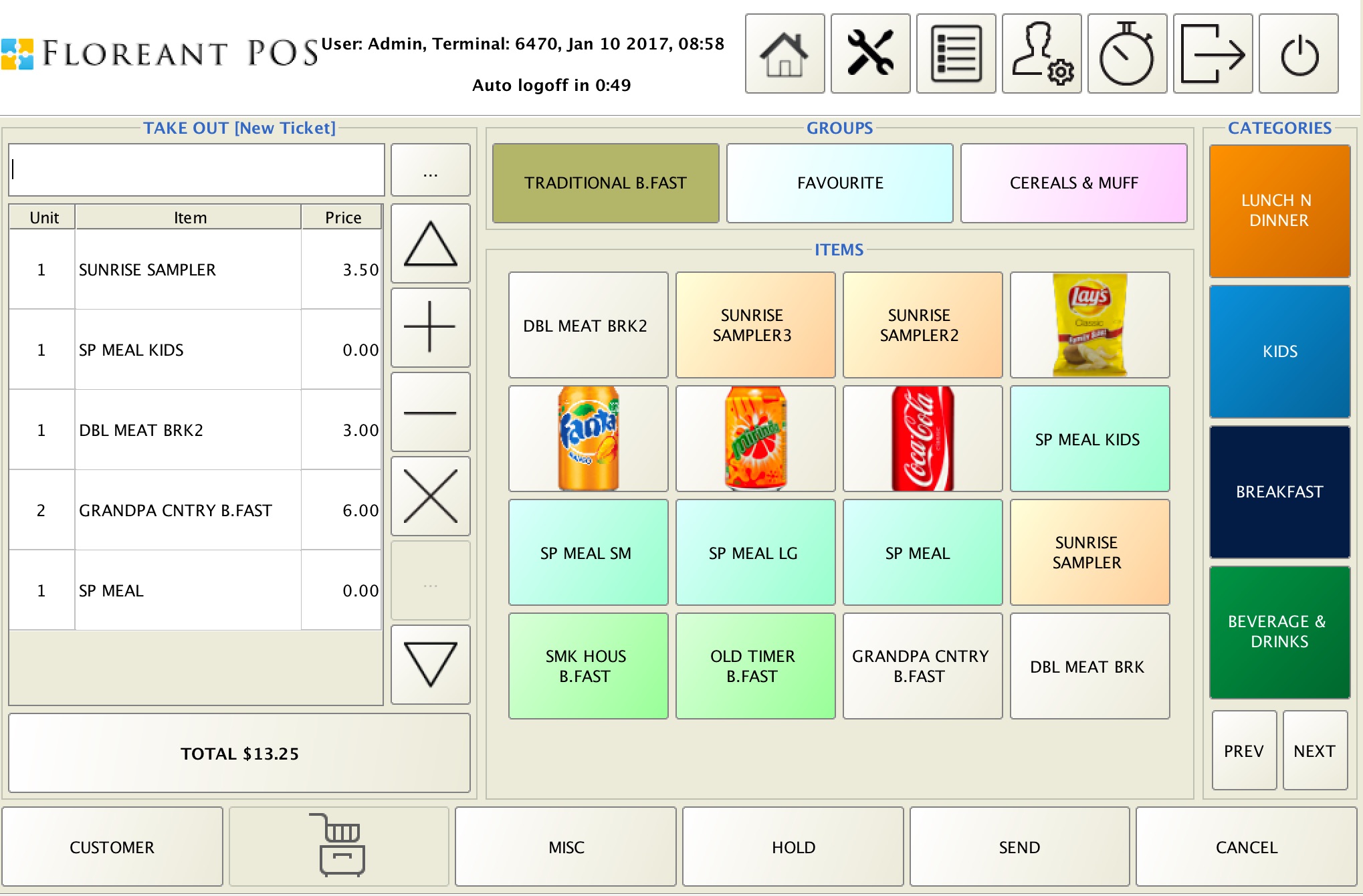 3. Unicenta
Platform: Java
Type: Retail
​Reviewer's Rating 4/5
Unicenta is award winning POS used in huge number of retail stores. This one is fork of another open source POS named Open bravo. Unicenta features touch screen based POS, inventory, table layout and web based report plugin. Being a Java based system it supports wide range of hardware, barcode, scanner, cash drawer. It has both free and paid supported releases.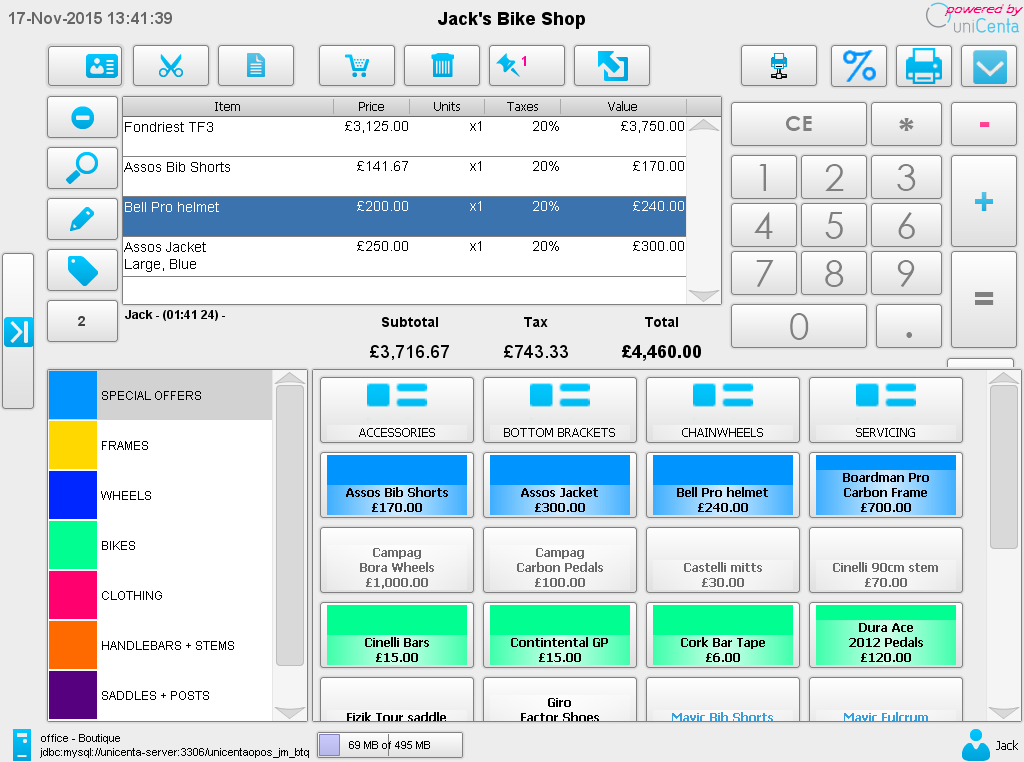 4. Wallace POS
Platform: Web
Type: Retail
​Reviewer's Rating 3.5/5
Wallace seems to be very promising Web based Point of sale system for reports. It has very nice design and rich set of reports. It has role based user permission, multiple terminal and support for return, discount and cancellation. Being a web based system it has limitation of terminal wise sales report generation and supports limited hardware.
5. Chromis POS
Platform: LAMP
Type: Restaurant and Retail
​Reviewer's Rating 3/5
Chromis POS was part of Unicenta Project and this fork added extensive improvement in last a year. They have variable pricing system that is needed for fish market. Their Kittchen display is simple and supports bump bar. Chromis is better solution for Quick server stores than Fine Dine-ins. Reason is it has limited features for Table service and server cash out.
Download http://chromis.co.uk/
6. OODO
Platform: Web
Type: Restaurant and Retail
​Reviewer's Rating 3.5/5
Odoo is a popularl ERP that has POS system inside. Odoo's open source edition is released under an LGPL version 3, and the source is available on GitHub. Odoo is primarily written in Python.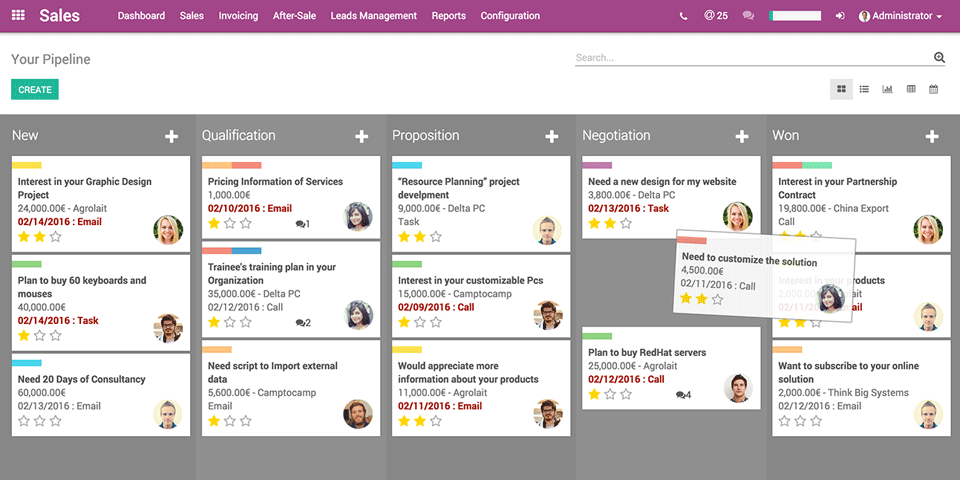 Download : oodo
7. OS POS
Platform: Web
Type: Retail
​Reviewer's Rating 3/5
Open Source Point of Sale (OSPOS) is a Retail Management Solution for Independent Retailers. OSPOS includes several modules.
Point of Sale
Inventory Control
Customer Management
Employee Management
Reports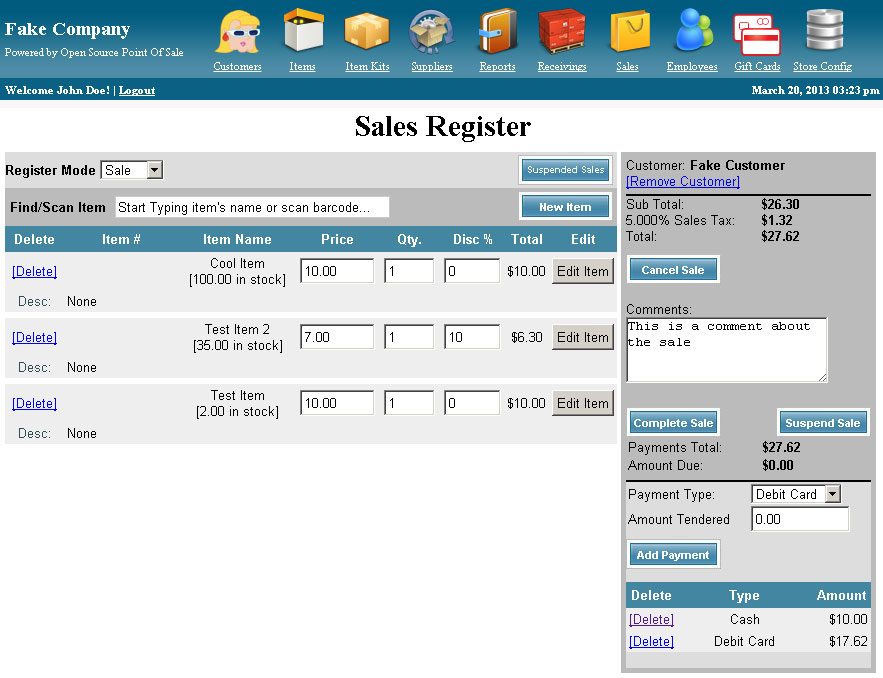 8. Wanda POS
Platform: Java
Type: Retail
​Reviewer's Rating 3/5
Its another fork of Open bravo and has become popular these days.
Download http://wandaapos.com/
9. POSNIC
Download http://posnic.com
10. Core POS
Type: Retail
​Reviewer's Rating 3/5
Core POS is new and it has presence in Github.

Download: http://site.core-pos.com/