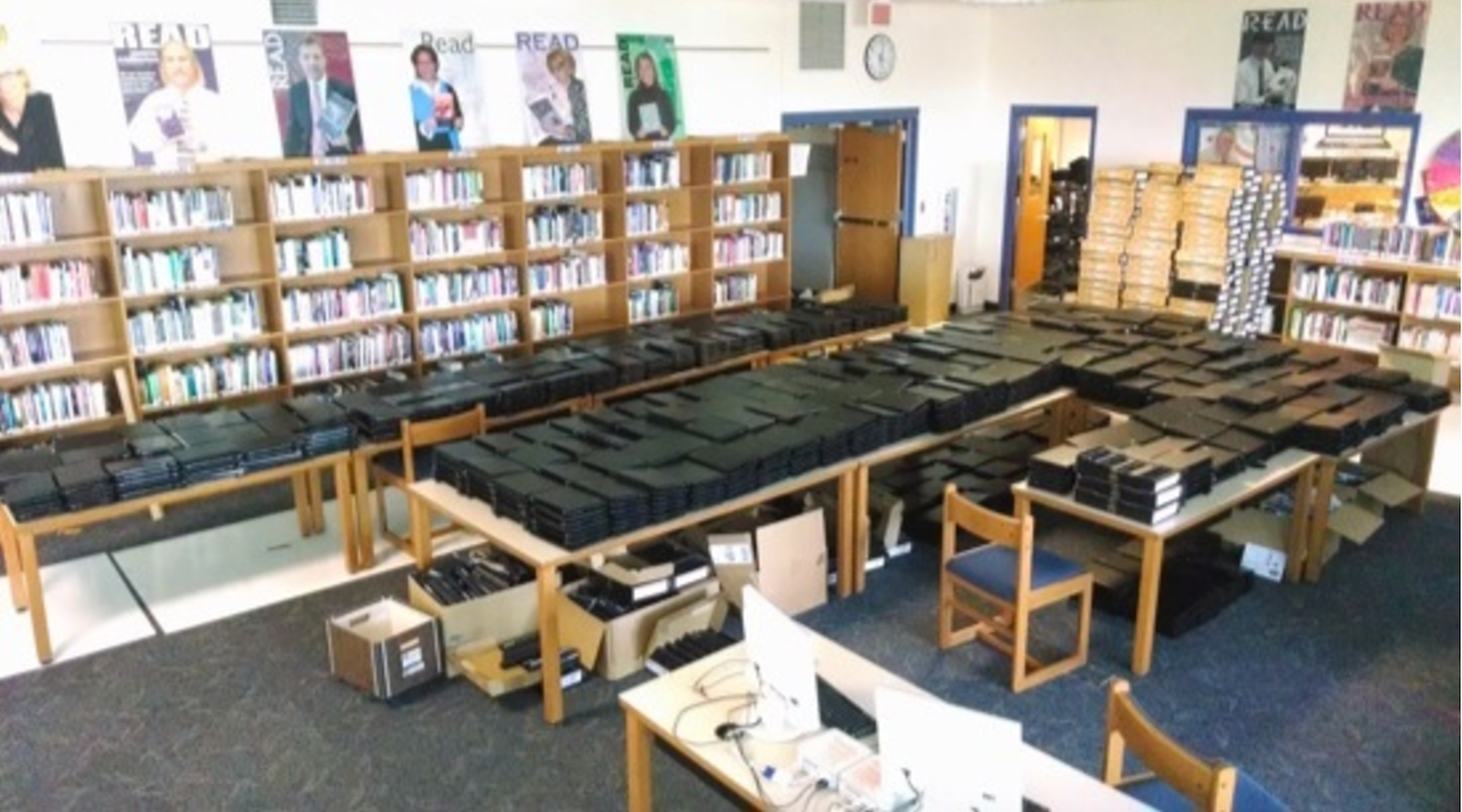 The following is an adapted excerpt from chapter six of The Open Schoolhouse: Building a Technology Program to Transform Learning and Empower Students, a new book written by Charlie Reisinger, Technology Director for Penn Manor School District in Lancaster County, Pennsylvania. In the book, Reisinger recounts more than 16 years of Linux and open source education success stories.
Penn Manor schools saved over a million dollars by trading proprietary software for open source counterparts with its student laptop program. The budget is only part of the story. As Linux moved out of the server room and onto thousands of student laptops, a new learning community emerged.
By August 2013, Penn Manor High School's official Student Help Desk program was online. It was an independent study course. There were no course prerequisites—everyone with the curiosity and desire to learn was welcome. There was no formal curriculum. Students would learn alongside the district technology team, and together we would figure out what we needed when we needed it. There were no exams; this was a results-only learning environment, not an academic exercise.
Five seniors represented the core help desk. Andrew Lobos, Ben Thomas, and Nick Joniec were there, as well as their mutual friend, Collin Enders. The four friends formed the nucleus of the inaugural help desk team and served as mentors to incoming students new to technology support. Benjamin Moore, a student with little IT background beyond the motivation to learn more about computers, was the fifth apprentice. Ben Moore's first love was theater production, but he decided on a whim that the Student Help Desk would be interesting. He thought computers were cool and wanted to learn to code.
Between the five students' schedules, I had help desk coverage from the start of school until the ending bell. Apprentices reported to the help desk room just like they would to any other course on their schedule. All similarity to a traditional math or science class ended once they entered the room. The help desk was a serious operation, and our first deadline was looming. In less than two weeks, a pilot group of 90 high school students would receive laptops running Linux and open source software exclusively. We needed the apprentices to help us prepare for the pilot program, and for the full 1700 student one-to-one laptop program launch in January 2014.
The help desk classroom, Room 358, was crowded with a wagonload of sinuous network cables, power adapters, carry cases, mice, USB drives, and towers of boxes filled with demo laptops waiting patiently for the chance to greet their new student owners.
To better supervise the students' activities, Penn Manor Technician, Alex Lagunas, relocated his desk from the high school technology office to the Student Help Desk room. With no physical separation between the student and the staff spaces, the apprentices couldn't evade oversight. But Alex wasn't there to bark orders to minions. His role was that of a team leader and co-worker. He directed day-to-day support activities and mentored the young team on everything from repairs to programming tricks. Together, as teacher and apprentice, the entire affair resembled an 18th-century French atelier—except with less painting, and more programming.
It would soon become difficult to discern the line between staff technician and student apprentice. Support roles overlapped and visitors received equal assistance from the apprentices and IT staff. As this community evolved, the student apprentices became even more passionate and energetic. They loved the work and felt a deep commitment to the mission and purpose of the laptop project. As the weeks progressed, any lingering fears that students couldn't make this happen evaporated.
The student team was tight-knit, and remarkably good at self-organizing. Each student apprentice found an individual role. Collin and Nick were quick to tackle logistics and organizational tasks. Andrew and Ben Thomas preferred writing code. And the core quartet took it upon themselves to welcome and help Ben Moore.
Project-based learning? Check. Everything the student apprentices created was part of an authentic technology project. Challenge-based learning? Absolutely. We had four months to do something Penn Manor High School had never done. How about 20 percent time? Certainly. Innovation was encouraged 100 percent of the time. Hour of code? Plural. Our apprentices were about to log hundreds of hours of programming time.
We had created a paradise for student hackers.
During the first year of the high school one-to-one Linux laptop program, the student apprentices created three important software programs. The first was the Fast Linux Deployment Toolkit (FLDT), a software imaging system Andrew created after he and fellow apprentices grew frustrated by limitations with FOG. The second project was a student laptop and inventory tracking and ticket system. The third, a URL-sharing program called PaperPlane, was born from a staff idea that turned into a student challenge.
Other projects were less practical and much more playful. Collin's favorite funny memory about the help desk was a mischievous prank—"trolling" Ben. "I worked with Andrew to secretly install a program on his laptop. Once every hour, a Cron job triggered the machine to speak out loud the phrase 'I'm watching you!' He had no idea what was going on. That was fun to watch."
Thinking about Ben Thomas' laptop inexplicably blurting "I'm watching you!" in the middle of a quiet class still makes me break from the role of serious school official and laugh out loud like a schoolboy. The whimsical caper invokes the genuine spirit of hacking and reminds me that schools shouldn't be glum factories of curriculum and testing. When you let students go, when you trust them, you change their world.