The first x86-based community-backed hacker SBCs not backed by Intel or AMD have reached market, offering higher prices than most ARM SBCs, but with faster processors and competitive power consumption. The Kickstarter-backed newcomers, all of which run Linux or Android, include the now-shipping JaguarBoard, the soon to ship UP board, and the Udoo X86, due in November.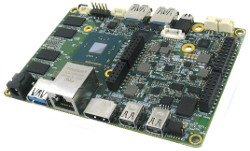 The Udoo X86 is the only one of the trio to match the fully open source claims of the hacker boards offered by the two major x86 chipmakers, but they're all aimed at the maker market and offer community services. AMD already sells a Gizmo 2 board, and Intel has the Atom-based MinnowBoard Max and Intel Edison for Arduino Kit, as well as its Quark-based Galileo. Yet, none of these open-spec boards are configured with chips as powerful as those driving the three newcomers, especially the 14nm Atom driven UP and Udoo X86.
The arrival of x86 hacker boards has been slowed by the high power consumption of x86 SoCs compared to ARM, as well as higher prices. The first hurdle has largely been overcome, with the UP's Atom x5-Z8300 running at 2W and the Udoo X86's Braswell-based Atom x5-E8000 and faster Celeron N3160 SoCs offering 5W and 6W TDPs, respectively.
Pricing, however, is still a challenge. While these $80 to $100 boards are still in the hacker board ballpark, most of the ARM action is now happening at $35 or under, as with the Raspberry Pi 3, and several boards are selling for well under $20.
Still the new entries compete better with higher-end ARM boards, few of which offer quite the same CPU horsepower. And the Udoo X86 in particular provides features that are still rarely seen on the ARM side, including DisplayPort, SATA, and M.2 expansion.
Intel just tipped a lower-cost Apollo Lake Atom system-on-chip expected to arrive later this year in 2-in-1s, tablets, and budget mini-PCs. Apollo Lake will debut 14nm "Goldmont" cores as well as Gen9 graphics similar to that found on Intel's 6th-Gen "Skylake" Core CPUs.
Although embedded is not the main focus, price and the power consumption will be lower than with Braswell Atoms. In addition, Apollo Lake is loaded with interfaces like GPIO, I2C, SPI, and PWM, that would be welcome on a hacker SBC.
Here's a quick look at the new JaguarBoard, UP board, and Udoo X86:
JaguarBoard — Jaguar Electronic HK's JaguarBoard launched in January, and has already shipped to backers. The 101.9 x 64.5mm SBC is the most affordable of the three newcomers, offered at $65 to Kickstarter backers, and now available for $79.
The JaguarBoard's lower price reflects the fact that it runs on Intel's older, 22nm, "Bay Trail" Atom Z3735G, and offers only 1GB of RAM and 16GB flash, The SBC ships with an SD slot, HDMI, 10/100 Ethernet, and three USB 2,0 ports, among other I/O. Total consumption is said to be under 7.5W. There are no claims for open hardware, but there's a forum and other community resources.
UP board — Asus-backed Aaeon Europe's UP board will begin shipping to Kickstarter backers in early May. Based on a 14nm "Cherry Trail" Atom x5-Z8300, the UP has a Raspberry Pi-compatible 40-pin connector, and offers a similar, 85.6×56.5mm size and port layout.
The quad-core Atom x5-Z8350 is clocked at 1.44GHz (1.92GHz burst) and provides 4K-ready Intel HD 400 Graphics. You can choose between 1GB ($89) or 2GB ($99) DDR3L-1600 RAM, each with 16GB flash, expandable to 32GB, and there's a new 4GB version with 32GB of flash that goes for $149. Intel is using the latter configuration for a $250, Ubuntu-driven Intel RealSense Robotic Development Kit, which includes an external RealSense depth-sensing camera.
The UP board ships with DSI and eDP display interfaces, and offers CSI camera and I2S audio ports. Other features include a Gigabit Ethernet port, three USB 3.0 ports, and six onboard USB interfaces. Aaeon just launched its UP Community website, which features a new Yocto Project build, but there's currently no forum, and no schematics or other open spec resources.
Udoo X86 — Last week, Seco's Udoo project, known for open-spec SBCs like the i.MX6-based Udoo Quad, surpassed its Kickstarter goal for its $89 and up Udoo X86. With its quad-core, 14nm Braswell-based Atom and Celeron processors, the open-spec Udoo X86 is billed, somewhat justifiably, as "the most powerful maker board ever." Then again, it won't ship until November, by which time we can expect several more x86 hacker SBCs to break cover.
Kickstarter funding is available through June 6 for the $89 Udoo X86 Basic (1.04GHz with 2.00GHz burst) with 2GB of RAM and an Atom x5-E8000 SoC. There's also the $129 Udoo X86 Advanced with 4GB RAM and a faster Celeron N3160 (1.60GHz with 2.24GHz burst). Both options can drive three simultaneous 4K displays.
The 120x85mm Udoo X86 is equipped with 8GB of eMMC, as well as a microSD slot and a SATA connector with optional solid state drives. The SBC features HDMI and dual DisplayPort++ ports, plus S/PDIF and analog audio outputs. Other features include a GbE port, three USB 3.0 ports, an IR interface, and 20 GPIOs. An M.2 Key B slot supports an optional 802.11ac and Bluetooth 4.0 module.
The Udoo X86 is the first hacker SBC to integrate the tiny Intel Curie module, which incorporates a Bluetooth Low Energy radio, and a Quark SE MCU. The Quark enables Arduino 101 IDE compatibility, as well as support for Arduino shields, sensors, and actuators.