Aside from the Tizen-based Samsung Gear S2, and a dozen or so Android-based Android Wear watches, Linux has been something of a no-show in the smartwatch market. Most lower-end watches skip the overhead of Linux in favor of simpler RTOS-based devices running on MCUs.
Yet Linux got a boost into wearables this week when Qualcomm, whose Snapdragon chips fuel most Android Wear watches, announced a Snapdragon Wear 1100 system-on-chip for lower-end smartwatches and wearables. The 28nm-fabricated SoC is built around a single Cortex-A7 core that can be clocked to 1.2GHz.
The Wear 1100 can also support RTOS implementations, but it's designed primarily for Linux. The main draw here appears to be Linux's support for more advanced connected apps that can orchestrate a variety of sensors and radios.
Another Linux-based platform supporting wearables was announced this week by Marvell. Part of Marvell's IoT Application Processor (IAP) family, the IAP220 SoC has dual Cortex-A7 cores, as well as a Cortex M4F microcontroller.
The device, which supports Android and Brillo in addition to Linux, has a more general IoT focus, supporting home and industrial automation and smart appliances in addition to wearables. Still, it offers an additional choice for developers who want to look beyond Android and the Apple Watch in designing next generation smart watches and bracelets.
Snapdragon Wear 1100
The Snapdragon Wear 1100 targets "the fast growing targeted-purpose wearables segments such as connected kid and elderly watches, fitness trackers, smart headsets, and wearable accessories," says Qualcomm. The platform complements a more advanced, quad-core Cortex-A7 Snapdragon Wear 2100 SoC announced in February that targets the next-generation of Android Wear watches.
The Snapdragon Wear 1100 SoC measures 79 x 79mm and has a 256KB L2 cache. It lacks a GPU with 3D acceleration such as the Wear 2100's Adreno 304, but offers a fixed function 2D graphics processor. The Wear 100 includes many of the features of the 2100, including optional WiFi and Bluetooth 4.1 LE support. It even supports a more advanced 802.11ac radio compared to the 2100.
Standard features shared with the Wear 2100 include a Qualcomm iZat location chip with support for GPS, GLONASS, Galileo, and Beidou standards. The iZat chip also offers "multi-GNSS, cell-ID positioning, and ability to support applications that utilize geo-fencing for safety monitoring," says Qualcomm.
The Wear 1100 also provides 4G LTE and 3G global band support, although it's only CAT 1 LTE instead of CAT 4. This would limit you to 10Mbps downlink and 5Mbps uplink speeds instead of 150Mbps and 50Mbps on the higher-end Connected version of the Wear 2100. The platform supports cellular voice, as well as data.
The Wear 1100 is further equipped with power management features and support for DDR2 RAM instead of DDR3 on the Wear 2100. Security features include hardware cryptography, a hardware random number generator, and TrustZone technology. There was no mention of Wear 2100 features like NFC, Fluence audio, a DSP sensor hub chip, or support for eMMC 4.5 and USB.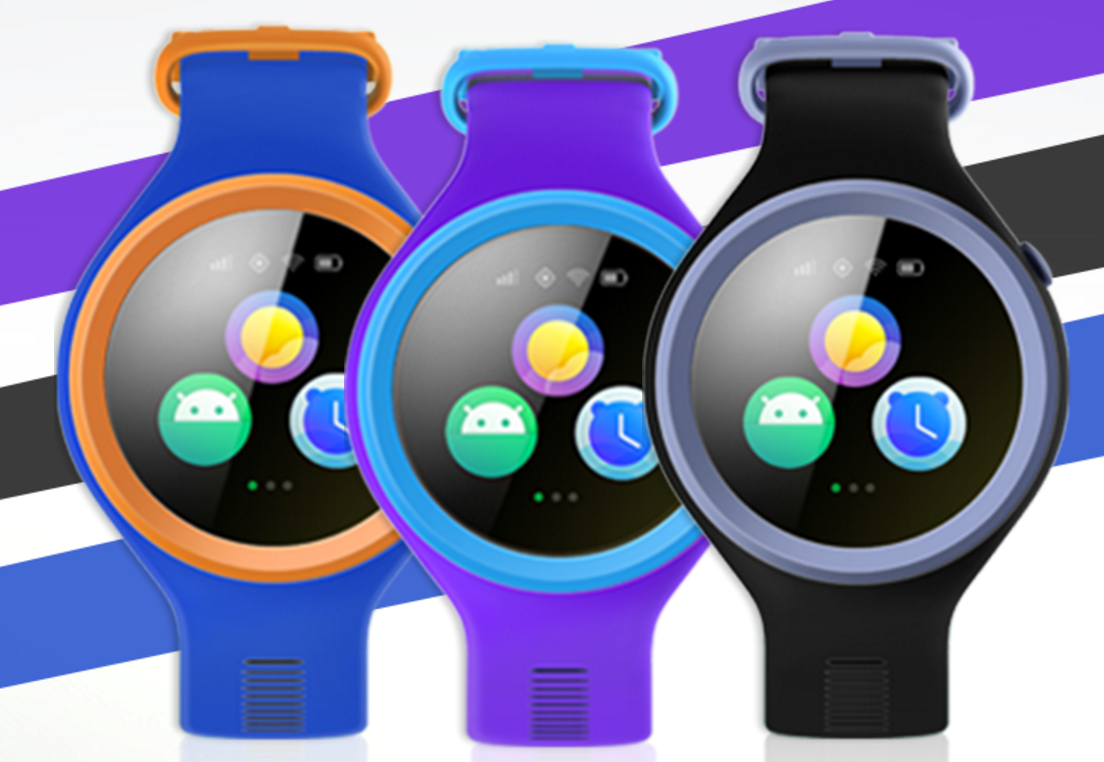 Several reference platforms for wearables based on Snapdragon Wear 1100 were demonstrated at Computex, with most of them aiming for the kids watch market. Aricent announced a Linux-based reference platform for kids watches based on the Wear 1100 called ADAPT. SurfaceInk, which helped design the unusual, round Runcible phone for Monohm, which is still on pre-order, has also developed a Wear 1100 based reference platform. WeBandz will use the SurfaceInk platform for a bracelet that features "smart tracking" technology. Although it's primarily aimed at kids, it can also be adapted for the elderly and even pets.
Interestingly, the Android- and Wear 2100-based collaborations were also mostly aimed at kids and the elderly, including a Borqs-built kids watch from Lima, Peru based Anda Technologies aimed at the Latin American market. inWatch is also planning several China-destined kids watches built on the Wear 2100, and Infomark is prepping on a Joon2 kids watch based on chip.
If smartwatches for adults are still far from a must-have item in the consumer market, the kids and elderly market seems like even more of a longshot. Presumably, the devices are aimed primarily at parents who want to track their kids — or their own elderly parents — and figure a watch has a better chance staying with their owners than a phone.
The kids focus may also be a way of avoiding market leader Apple, which is still working on an updated Apple Watch due later this year rather than taking on the low-end wearables market. Still, even the Apple Watch is not exactly flying off the shelves. There's plenty of room for other successes here — or potentially a collective failure. Yet, with new chips from Qualcomm, and others, such as Marvell's IAP220, not to mention the numerous vendors involved, there's a better chance of finding the perfect mix of features.