By Timothy Prickett Morgan • Get more from this author
With all of the relatively cheap computing power available today, and with the expanding focus from traditional supercomputers to clusters that can run simulations or big data workloads, you'd think that the HPC market would be growing like gangbusters. Not so.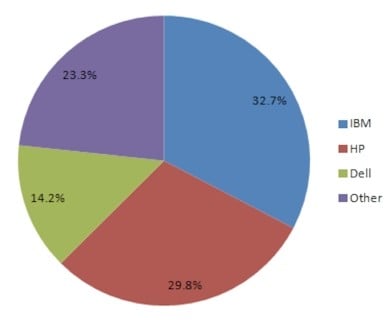 That's the latest news from the box counters at IDC. But there's good news, as well: in terms of sales, the HPC space helped prop up the rest of the server racket in the second quarter of this year, and looks to do even better in the second half.
In the quarter, sales of server iron specifically earmarked for use in high-performance systems running technical workloads actually took a bit of a dip, falling nine-tenths of a point to $2.4bn. As El Regreported last week, global server sales as reckoned by IDC fell 4.8 per cent to $12.6bn, with a shipment decline of 3.6 per cent.
The shipment decline in the HPC racket was much more dramatic, plummeting a stomach-lurching 21 per cent compared to the year-ago period, with a total of 22,998 machines out the door in the quarter. However, thanks to steady peddling of large petaflops-class iron, average selling prices in the HPC sector rose even as revenues stalled.
Overall, however, HPC revenues grew a lot less than the overall server market. HPC system sales are tied very closely to new processor and interconnect announcements, but are not solely driven by them.
The high-end of the HPC market – machines that cost $500,000 or more – did particularly well in the second quarter, with revenues up 21.8 per cent to $1.17bn. Cray, Fujitsu, and Silicon Graphics all notched up some big installations in the second quarter, with their respective revenues in the HPC segment up 43.7, 33.5, and 10.3 per cent, respectively. Chinese supercomputer makers, who had benefitted from a boom in supercomputer spending, saw mixed results in Q2, with Inspur enjoying a 22.5 per cent spike in sales, but Dawning seeing only a 1.9 per cent bump.