One of the greatest aspects of Linux is its flexibility—it can be whatever you need it to be. It can be a massive server for big data, a desktop for rendering video or editing audio. A graphic designer's studio. An every-day, get things done machine.
Or something in between.
For every job, you'll find a distribution. For every need, you'll find a tool. For every piece of hardware, you'll find a version of Linux ready to make it work for you. Whether you're working working with big iron or a low-end, aging desktop or laptop…there's a Linux for the job.
At the same time, Linux can be a bit challenging to new users. Yes, most modern distributions and desktops have come a very long way to making the Linux ecosystem much, much easier than it once was. But some new users need a bit more help than others. And some, lesser-powered hardware could use that same helping hand.
That's where the likes of Linux Lite shines to a brilliant perfection. Linux Lite falls into that ubiquitous category of Linux distributions perfectly suited for low-end hardware. However, this particular take on the lightweight operating system achieves something few in this category can manage.
It delivers all the tools you need to get the job done, all the while making Linux a no-brainer for any level of user.
Linux Lite isn't a stripped-down version of our favorite open source operating system. You won't open up the main menu to see software that barely gets the job done. There's no Abiword, Gedit, or Gnumeric in place of LibreOffice. You won't find Midori standing in for Firefox. Linux Lite has everything you need…and more. In fact, this take on the "lightweight Linux distribution" is so not lightweight, it might well leave you wondering why the term "lite" even applies. The only conclusion that I can draw with the name is that the lite actually applies to Linux and not to the size of the distribution's footprint.
In other words, this is Linux that doesn't actually feel like Linux. Anyone could login to this distribution and be instantly at home. It's that easy to use.
Lite is still lite
At the heart of every lightweight distribution is the desktop and most all of them use Xfce. Linux Lite is no exception, and it uses that desktop to perfection. With the Linux Lite desktop, users will find all the things they have become accustomed to. There are no tricks, no unique takes on the desktop metaphor. Linux Lite is simplicity designed around the fundamental idea of familiarity….all the while, retaining a speed that other "full-blown" desktops have trouble matching.
To test the limits of Linux Lite, I installed the OS on my oldest laptop—one that comes to a crawl with the likes of Ubuntu, GNOME, and Fedora. I wanted to see how standard tools would fare on a platform laying claim to the "lite" title.
I was doubtful.
My doubts were quickly abated.
As to the hardware specs? Don't laugh.
CPU: Dual core Pentium 1.86 GHz (32-bit architecture)

RAM: 2 GB

Graphics: Intel GM965
By all accounts (in terms of technology), this machine is a dinosaur (a Sony VAIO, purchased sometime around 2009) and should have been retired long ago. However, it has made for an interesting compare and contrast for how Linux distributions fare with low-powered hardware. And Linux Lite certainly gave this poor machine a new lease on life.
The minimum requirements of Linux Lite are:
700MHz processor

512mb RAM

VGA screen capable of 1024×768 resolution

DVD drive or USB port for the ISO image
The suggested requirements of Linux Lite are:
1.5GHz processor+

1024mb ram+

VGA, DVI or HDMI screen capable of 1366×768 resolution+

DVD drive or USB port for the ISO image
Making Linux easy for new users
When you log into Linux Lite, you'll be greeted by something every Linux distribution should include—a welcome screen. This welcome screen (Figure 1) offers to walk the new user through the process of getting up to speed on the platform.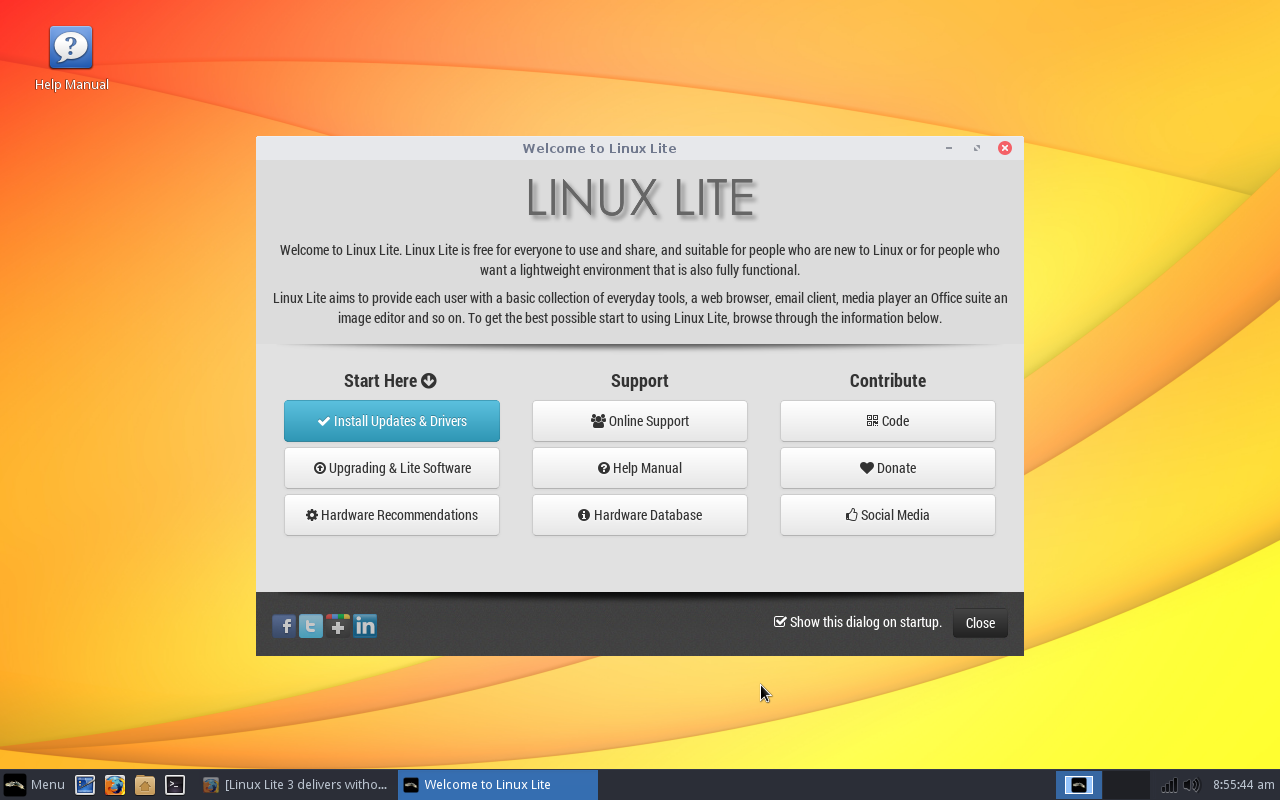 The first thing the Welcome window instructs you to do is click on the Install Updates and Drivers button. Do that and you'll find yourself in a new window labeled Starting With Linux Lite (Figure 2).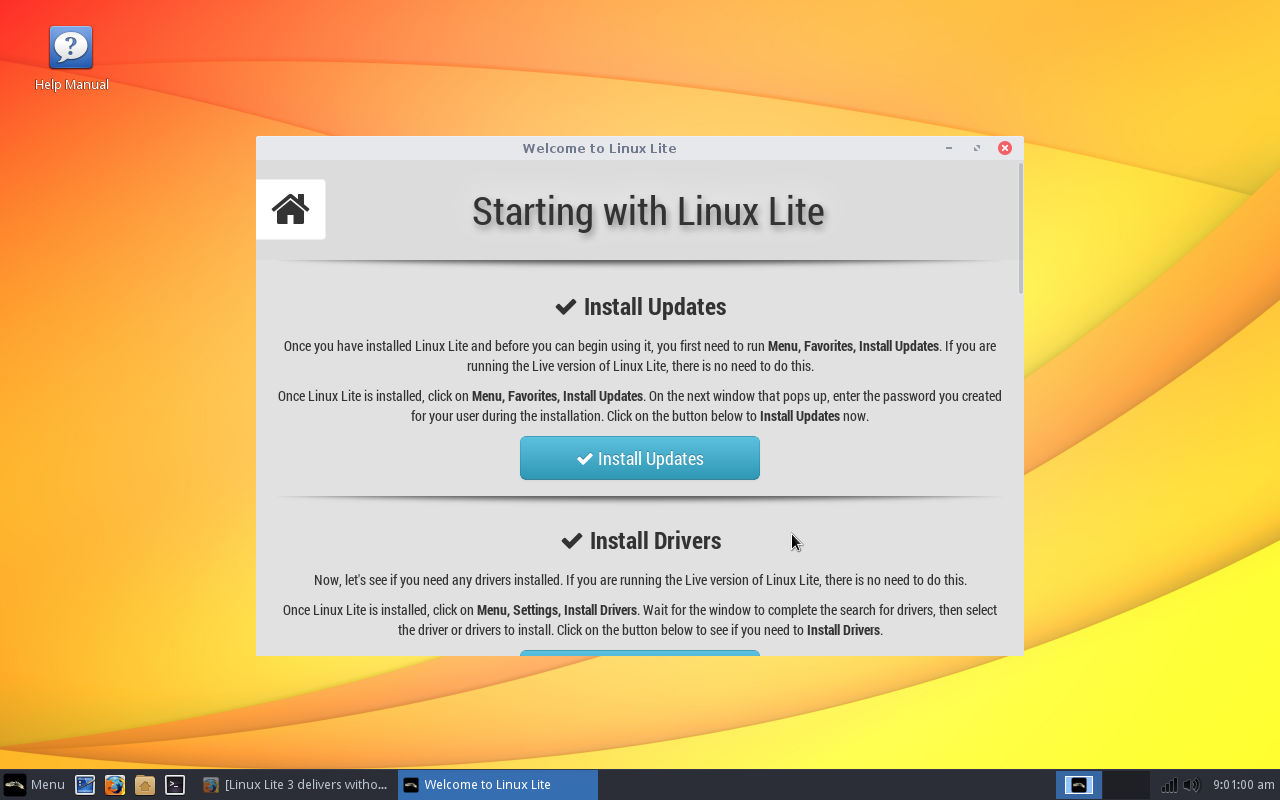 Click on the Install Updates button, enter your user password, and then click Yes when prompted. All updates will be downloaded. Once the updates have been downloaded, click the Update button and the process will begin. If the kernel happens to be included in the update, you will be prompted to reboot the machine; otherwise, you're good to go. Simple.
Once the updates are complete, you can proceed with checking for and installing (if applicable) any necessary proprietary drivers. Should the tool find any proprietary drivers, it is up to you if you apply them. Since my VAIO test machine makes use of Intel graphics, there were no proprietary drivers to install. Should you be using hardware with an Nvidia GPU (or a wireless chipset that might require a third-party driver), a proprietary driver will most likely be available.
Beyond the proprietary drivers, the Welcome window offers one last bit of useful help. Click on the Lite Software button (Figure 3) and you will be greeted with a simple window asking you if you want to Install Software, Remove Software, or Exit.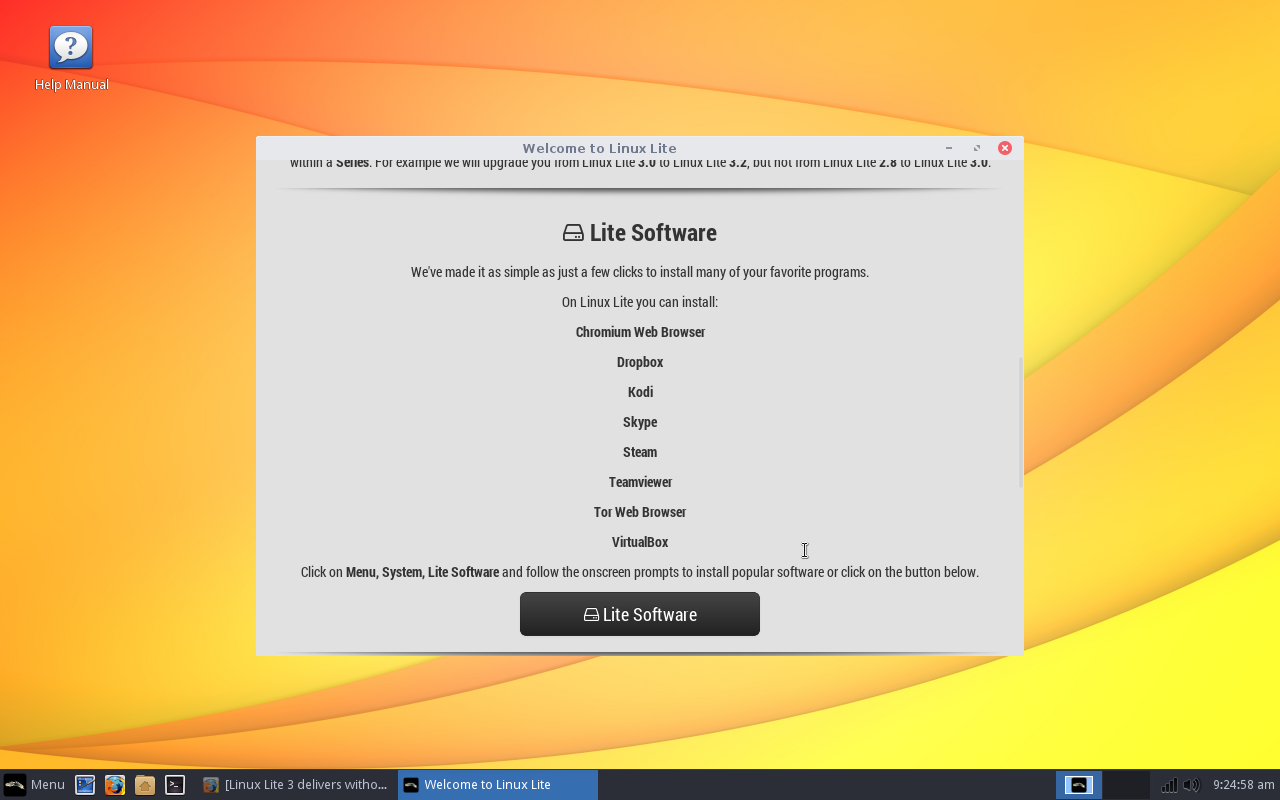 When prompted, select Install Software, and then click OK. What happens next might surprise long-time Linux users. A window will appear (Figure 4) with a basic list of available titles. Click on a title and then click Install. That's it.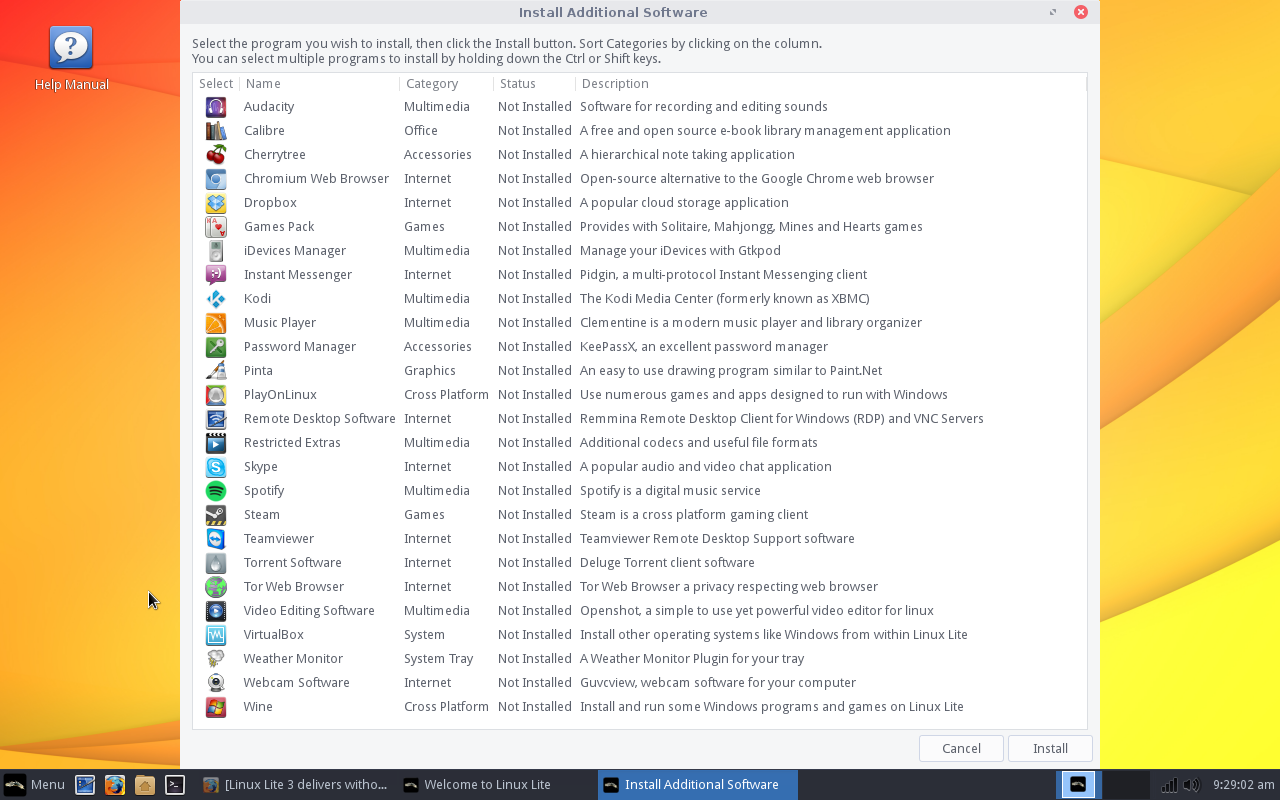 There may not be many bells and whistles for the Linux Lite software installation tool, but it makes installing key software (such as Audacity, Skype, Clementine, Spotify, Wine, Steam, etc.) something that won't put off any level of user. To me, that is the heart and soul of Linux Lite—and why I believe the lite applies more to the Linux than to the footprint of the distribution.
Last but not least
As if Linux Lite couldn't make it any easier for the new user, they include a single icon on the desktop labeled Help Manual. Click on that and a local web page will open (Figure 5). This page includes help sections for every aspect of using Linux Lite.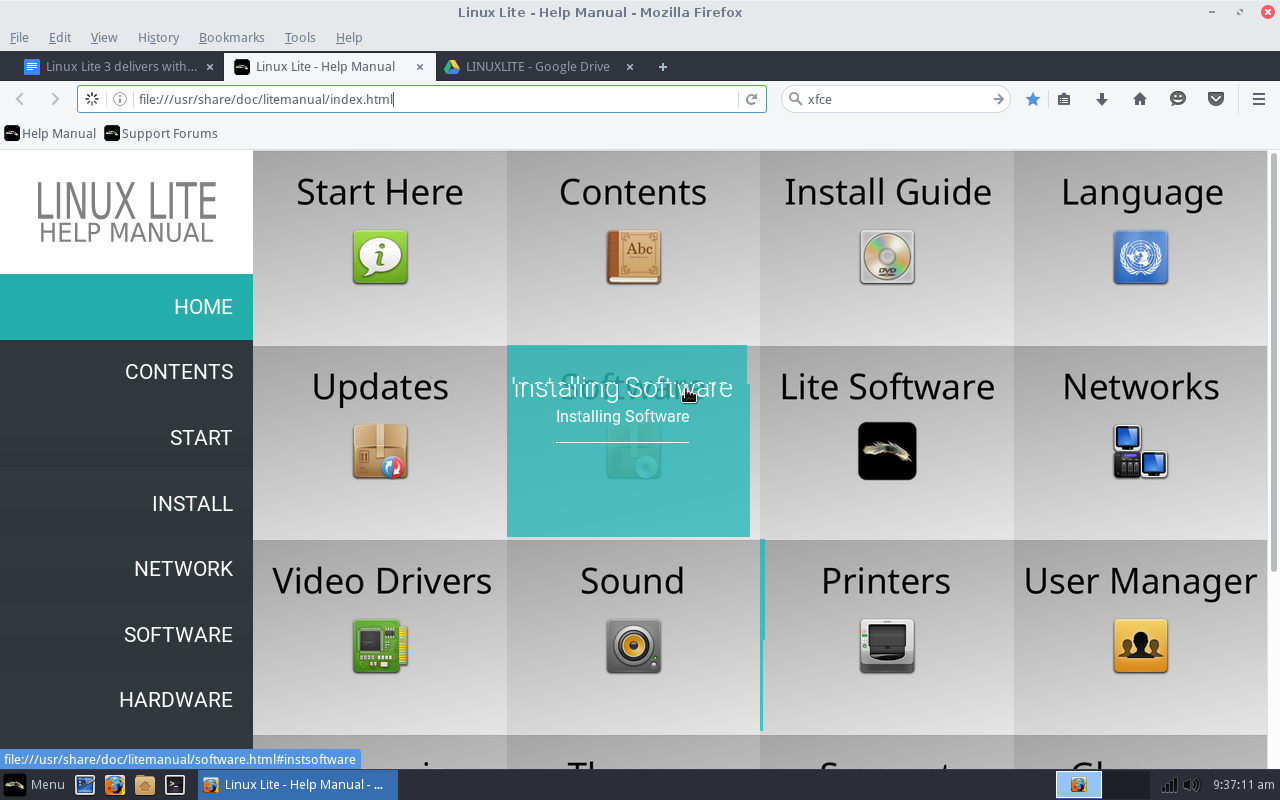 Any user, new to Linux Lite, could comb through the Help Manual and learn everything they need to get up to speed on the platform (although most users won't need it—thanks to Linux Lite's ease of use). The developers of Linux Lite deserve a massive round of applause for taking the time to put this together.
The bottom line
It's simple. Linux Lite is, hands down, not only one of the best "lightweight" Linux distributions I've ever used, but probably one of the single best distributions geared toward new users. I cannot imagine a user—even one who has never experienced a platform other than Windows—finding Linux Lite even remotely challenging to use.
In the end, if you're looking for a distribution that will breathe new life into old hardware, and make using Linux as easy as any other operating system on the planet, look no further than Linux Lite.