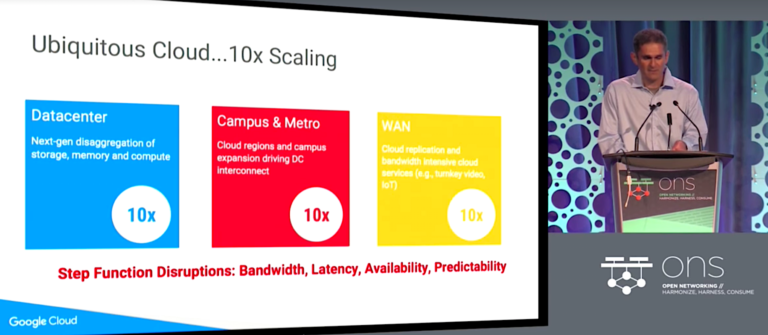 "The question of whether Software Defined Networking is a good idea or not is closed. Software Defined Networking is how we do networking," said Amin Vahdat, Fellow & Technical Lead For Networking at Google, during his Open Networking Summit (ONS) keynote. At Google, they've gone head first into the cloud through the Google Cloud Platform, which Vahdat says has expanded their network in new and exciting ways. They built one of the largest networks in the world over the past decade to support Google services, like web search, Gmail, and YouTube. But with the move to the cloud, they are now hosting services for others, which is pushing them into new functionality and capabilities.
Google's cloud architecture is built around disaggregation with storage and compute spread across the entire data center. It doesn't matter which server holds a particular piece of data, because they're replicating the data across the entire data center. The networking challenge with this approach is that the bandwidth and latency requirements for accessing anything anywhere increase substantially, which pushes their requirements for networking within the data center, Vahdat points out.
Software Defined Networking (SDN) has been evolving at Google. Vahdat says that in 2013, they presented B4, a wide area network interconnect for their data centers. In 2014, it was Andromeda, their network virtualization stack that forms the basis of Google Cloud. In 2015, Google had Jupiter for data center networking. Now, they have Espresso, which is SDN for the public Internet with per-metro global views and real-time optimization across many routers and many servers.
"What we need to be doing, and what we will be doing moving forward, is moving to Cloud 3.0. And here the emphasis is on compute, not on servers," Vahdat says. This allows people to focus on their business, instead of worrying about where their data is placed, load balancing among the different components, or configuration management of operating systems on virtual machines. With networking playing a critical role in Cloud 3.0, there are a few key elements to think about: storage disaggregation, seamless telemetry, transparent live migration, service level objectives, and more.
Vahdat suggests that, "the history of modern network architecture is going to begin at ONS. In other words, this community has been responsible for defining what networking looks like in the modern age and it's really different from what it has been."
Watch the video to see more about how networking and the cloud are evolving at Google.
Interested in open source SDN? The "Software Defined Networking Fundamentals" training course from The Linux Foundation provides system and network administrators and engineers with the skills to maintain an SDN deployment in a virtual networking environment. Download the sample chapter today!
Check back with Open Networking Summit for upcoming news on ONS 2018.
See more presentations from ONS 2017:
AT&T on the Next Generation of Network Software and Hardware
Martin Casado, General Partner, Andreessen Horowitz, talks about how he's seen SDN change over the past 10 years.