Open Source Summit (formerly LinuxCon + Container Con) is almost here. It's undoubtedly the biggest Linux show in North America that brings open source projects together under the same roof. With the rebranding of LinuxCon as the Open Source Summit, it has further widened its reach and includes several co-hosted events.
Three big reasons to attend this year include: Celebrities, Collaboration, and Community. Here, we share what some past attendees had to say about the event.
Celebrities
This year, actor and online entrepreneur Joseph Gordon-Levitt will be delivering a keynote. Gordon-Levitt founded an online production company called hitRECord that makes art collaboratively with more than half a million artists of all kinds, and he will be speaking on the evolution of the Internet as a collaborative medium.
The open source world, however, has its own lineup of stars who will be speaking at the event, including Linus Torvalds, Greg Kroah-Hartman, Zeynep Tufekci, Dan Lyons, Jono Bacon, and more!
Had a great time at the conference, got to meet some of the best and brightest in the Linux and Cloud industry! – William Roper, Hewlett-Packard
Collaboration
Open Source Summit is known for being a bridge between open source approaches and the world that's now opening up to open source technologies. It's a perfect platform for collaboration between both partners and competitors, and it creates a unique environment for communication and commitment to open source.
Collaboration is what makes great feats of technological and social progress possible. LinuxCon is where the industry's brightest and most prolific collaborators go to become even better collaborators. – Alex Ng, Senior Software Engineer, Microsoft
LinuxCon provides a unique opportunity to learn about a range of OSS projects/technologies, meet with developers and vendors, make important contacts, and have fun at the social events. I highly recommend LinuxCon (and other LF events) for anyone wanting to expand their understanding of the people, culture, and machinery behind Linux and OSS. – Alex Luccisano, Cisco Systems
Community
Open Source Summit is more about people than technology. It's the only place where you will see so much richness when it comes to community participation. You will see members from so many different communities including OpenStack, kernel, Docker, networking, database, cloud… you get the idea.
I only go to one conference a year, and it's LinuxCon. I never miss it. It has a little bit of every technology, and a wide variety of people to network with. – Troy Dawson, Senior Software Engineer, Red Hat
A worthwhile event with good content and speakers. Although a first timer at the event, I felt welcome. The event staff was friendly and helpful. The women's t-shirts and open source lunch helped make the event more welcoming and accepting. – Carol Willing, Willing Consulting
LinuxCon was a great conference with a mix of different sessions from educating kids with puppet shows using open source to Google talking about their upgrading process of thousands of machines and how they did it. There seems to be sessions that would interest anyone across the board. – Bill Mounsey
Open Source Summit creates a very family-friendly environment for attendees to bring their kids. As a journalist I have been attending the Open Source Summit annually since 2009, and it's the only tech event where I bring my entire family. In 2015, I met Torvalds again and told him that my son was big enough now to run around. He said he knew and pulled out his phone to show me a photo of my son chasing Tux the penguin around the venue the year before.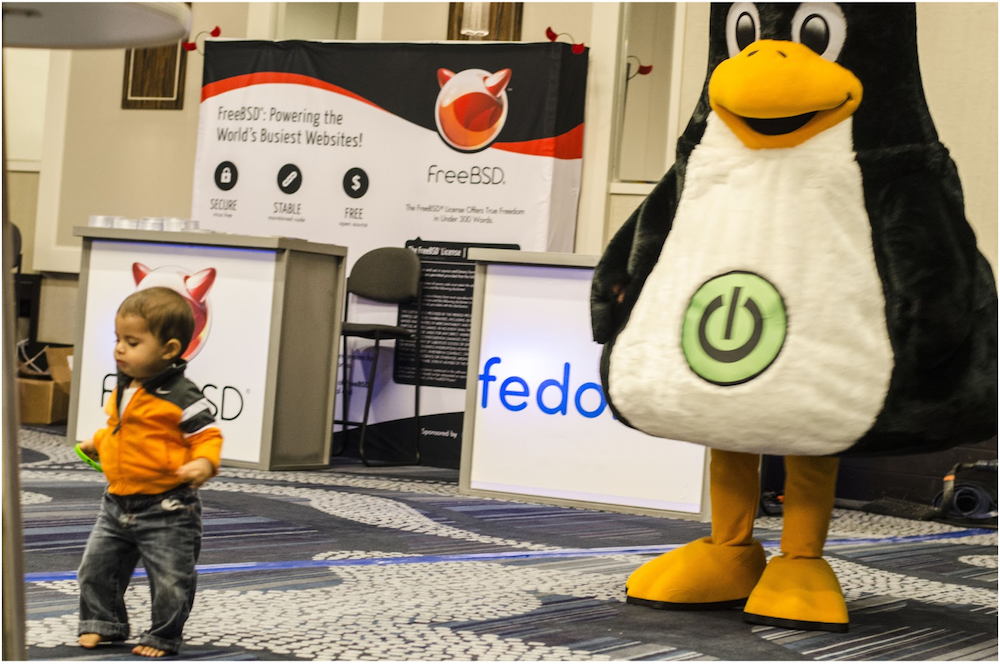 Check out the full schedule for Open Source Summit here, and save $150 on registration through July 30. Linux.com readers save an additional $47 with discount code LINUXRD5. Register now!